If you are an avid jewelry maker than you must have tons upon tons of DIY necklaces right? So how could a collection of more necklaces be any different than the ones you already have? Well they are. These different handmade necklaces range from choker necklaces to knockoff jewelry pieces and so much more. There is definitely something for everyone in this collection for everyone.
Even better…I know it's hard to believe it gets better…but these different DIY necklace patterns are also great for all different seasons. Whether you want some travel friendly jewelry that makes you think of vacation, or some gorgeous fall pieces, this collection really has everything you could ever want. Now, all you have to do is decide which piece you want to start making first.
14 Stunning DIY Necklace Patterns That You Can't Live Without
Anthropologie Knock Off Beaded Suede Necklace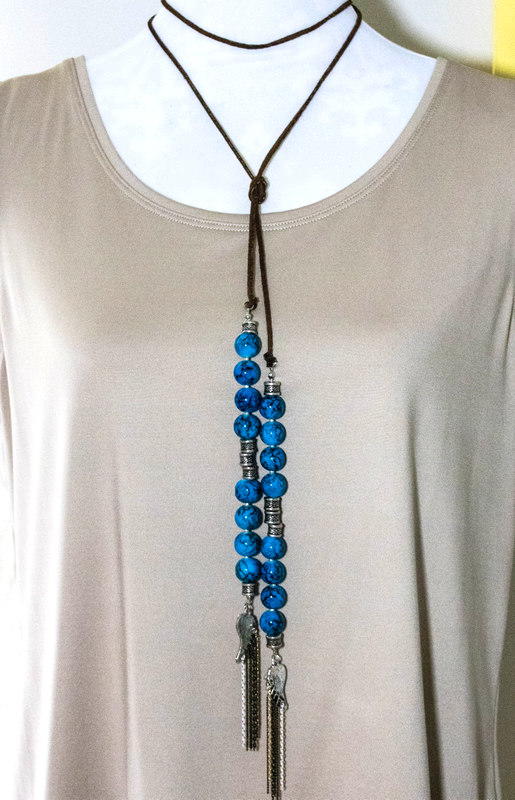 This is the perfect knockoff jewelry piece to start off this collection. This Anthropologie Knock Off Beaded Necklace is a stunning and trendy necklace pattern that you will fall in love with.
Rhinestone Chain Choker Necklace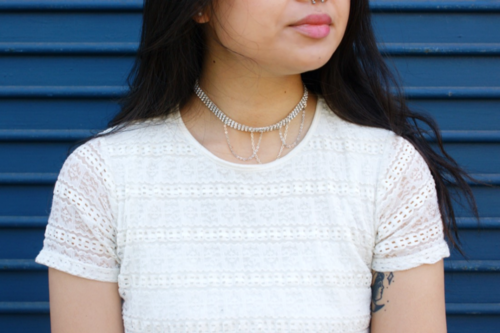 You are going to fall in love with this rhinestone necklace. Honestly, this is one of my favorite necklaces. Everything about it is so perfect!
Classy Leather Beaded Necklace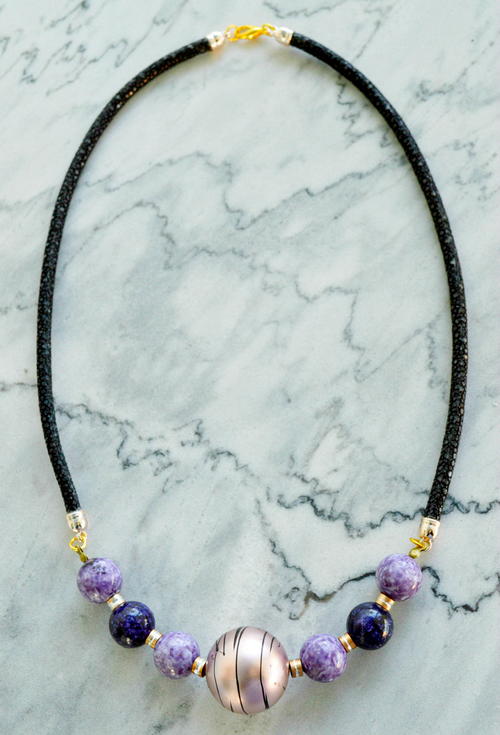 Talk about feeling like a Grecian Goddess! This gorgeous DIY necklace will make you feel beautiful every time you put it on. Plus, it's a super cute way to dress up a t-shirt and jeans!
Leather 90's Choker Necklace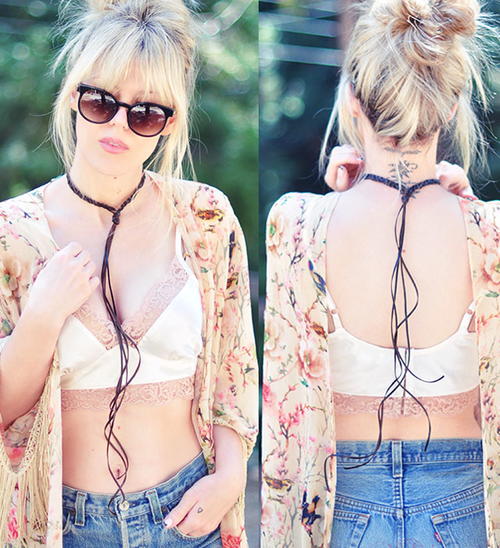 This is a super cute and trendy choker necklace that is perfect for all different kinds of occasions. Plus, the choker trend is only gaining popularity right now!
Venetian Nights DIY Necklace

Talk about gorgeous! This Venetian Nights Necklace Tutorial link will take you right to the full tutorial for you to print out, and it is a truly stunning necklace!
Totally Rocking Collar Necklace Tutorial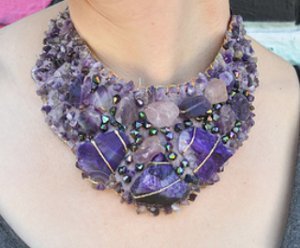 Talk about a stunning necklace! This Totally Rocking Collar Necklace is the perfect statement piece to really add some pizzazz to your outfit!
Pearl Choker and Wire Rings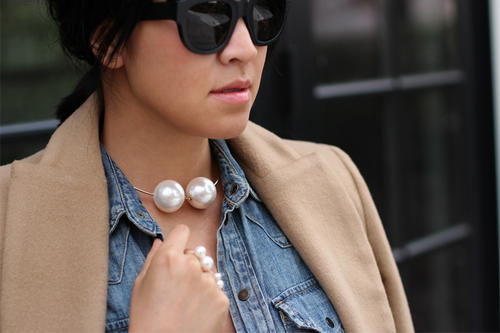 Talk about a trendy and unique necklace. This Pearl Choker is insanely easy to make and also incredibly cute! You will definitely love this one-I know I do!
Purple Passion Pendant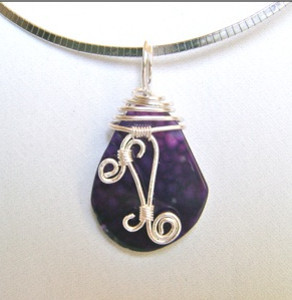 While this project may be focused a little more around the pendant instead of the necklace itself, it is still a great DIY jewelry piece. You will really fall in love with this purple passion pendant.
Simply Stunning Statement Necklace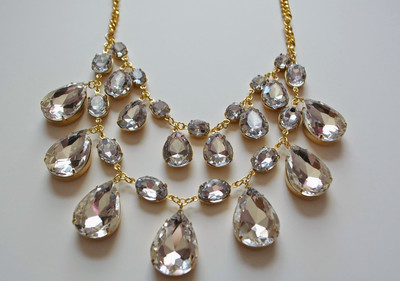 THis is quite the bombshell necklace! This Simply Stunning Statement Necklace is perfect for when you need to walk the red carpet or dress up your favorite cocktail dress!
Niagara Falls Inspired Wearable Waterfall Necklace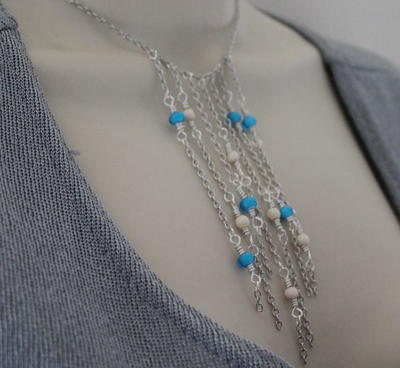 This Niagara Falls Necklace is a really stunning necklace that will make you feel like you are traveling to a wonderful island. Plus, it is the perfect necklace for summer and winter!
Girly Crystal and Pearl Necklace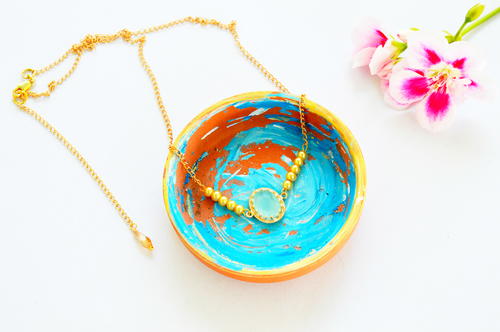 This DIY necklace is the perfect combination of girly and delicate. With this crystal necklace you will feel beautifully feminine.
Braided Rope and Chain Necklace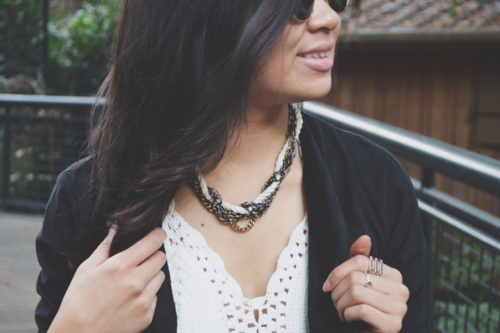 This is the perfect necklace for those of you who love that edgier style! You get chains and rope to mix all together and make one stunning braided necklace.
Quetzalcoatl Fringe Bib Necklace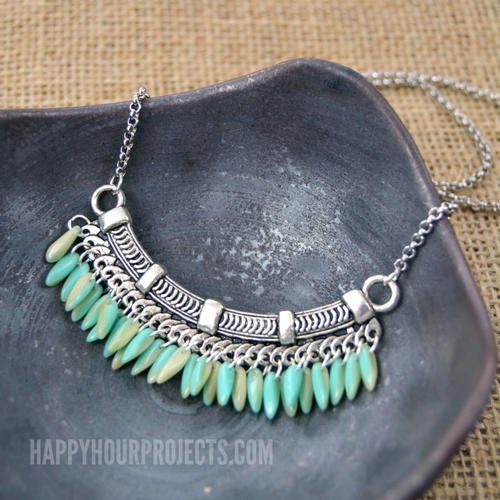 This is a really gorgeous bohemian style necklace. This bib necklace is the perfect mixture of boho chic and summer style!
Studded Spiked Choked Necklace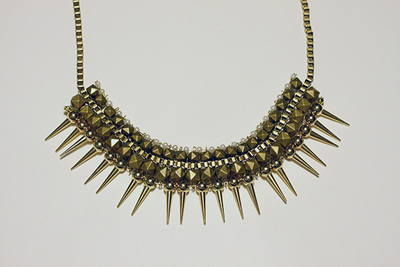 This studded and spiked necklace is another great edgy piece of jewelry for you to fall in love with! It has just the perfect amount of metallic and spike!
That wraps up this awesome collection of different necklace patterns! I hope you found a few new DIY necklaces to make.
What was your favorite DIY necklace pattern?
Latest posts by AllFreeJewelryMaking
(see all)