Let's be honest: there is nothing wrong with wanting nice things. They give you confidence, sparkle, and an attitude that says, "I am fabulous and I can succeed at whatever I set my mind to." The champion of this girl-power vibe? Barbie, of course!
That is why I took it upon myself to create a whole mixture of very nice DIY jewelry pieces that Barbie would fall in love with. Even if you don't like Barbie, you can still love these handmade jewelry pieces in this collection because of how gorgeous these jewelry patterns are! There are a combination of pink jewelry, floral or flower patterns, and sparkly jewelry pieces because who doesn't love some sparkle, am I right?
The reason I picked the different types of patterns that I did is because they best suited jewelry items I like to put on when I'm trying to look extra pretty. Trust me when I say that throwing on some DIY crystal jewelry will automatically make you the prettiest woman in the room. Basically, what I'm telling you is that these different jewelry patterns, whether it's a flower jewelry piece or some sparkling rhinestones, are all put into this category because these are the go-to jewelry pieces that you should make for when you want to feel extra beautiful. Like I said in the beginning, there is nothing wrong with wanting nice things, and there is definitely nothing wrong with wanting to feel beautiful!
18 DIY Jewelry Patterns Barbie Would Love
Pretty in Pink Jewelry Patterns
Let's start this list off right: with some different pink jewelry items! These pink jewelry patterns will have you feeling great, girly, and gorgeous, and they are super simple to make.
Lilac Rosette Seed Bead Necklace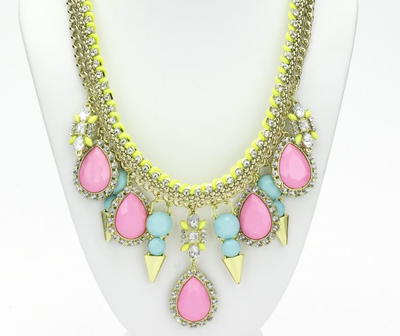 I mean, how could you not feel beautiful when you're wearing this Lilac Sugar Pop Necklace?
Pearl and Fabric Flower DIY Necklace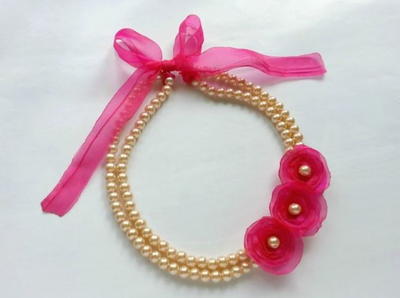 Again, this Pearl and Fabric Flower DIY Necklace just screams, "I am a girl and I am beautiful! Deal with it!"
Pretty in Pink Cube Bead Set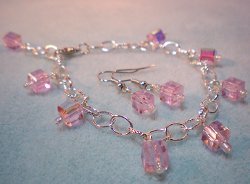 Do I even have to say it? Okay, I will anyway: this Pretty Pink Cube Bead Set will actually make you feel pretty in pink.
Crystal Bridesmaid Necklace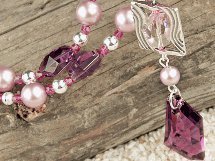 I know typically you aren't supposed to feel pretty when you're the bridesmaid so that you don't overshadow the bride, but this Crystal Bridesmaid Necklace definitely won't let that happen!
How to Make a Wrap Bracelet with Ribbon and Chain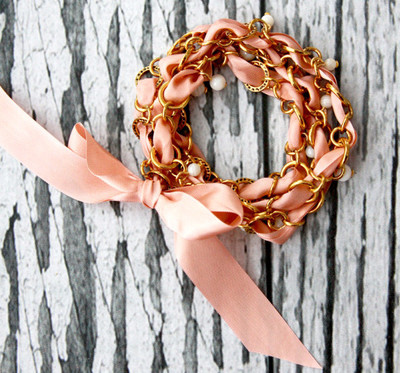 While the name of this DIY bracelet may be a mouthful, the bracelet itself is absolutely stunning!
Pretty in Pink Statement Necklace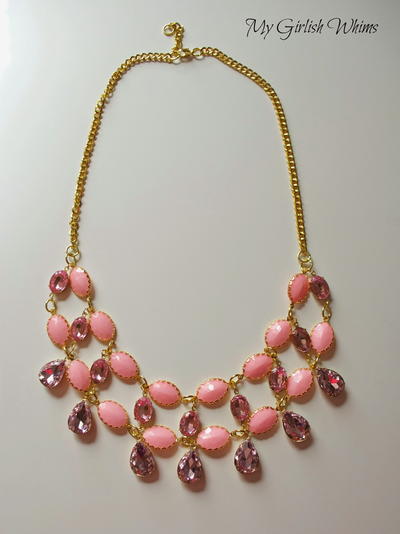 Calling all beautiful girls! Calling all beautiful girls! We've found the perfect Pretty in Pink Necklace for you.
Sparkling DIY Jewelry Pieces
Now let's move into the crystal and rhinestone jewelry pieces. I'm pretty sure it's physically impossible to not feel beautiful and girly when you're decked out in sparkling jewelry.
Rose Gold Romance Necklace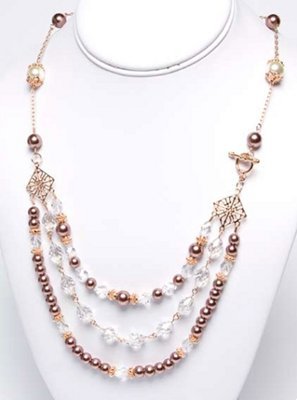 Romance necklace is right. This gorgeous Rose Gold Romance Necklace will definitely keep you feeling positively radiant all night long!
Sophisticated Sparkle DIY Ear Cuff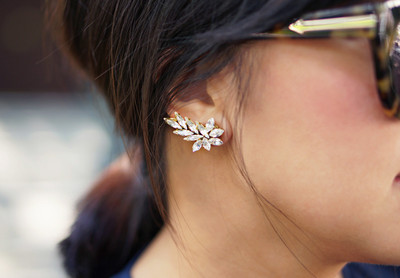 It's really important to feel beautiful from head to toe, so definitely don't skimp on this gorgeous Sparkle Ear Cuff.
Rhinestone and Chain Statement Necklace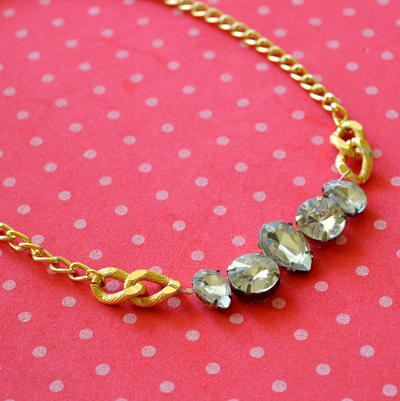 Again, do I even have to say it? I think we can all agree this Rhinestone and Chain Statement Necklace is the epitome of sparkly, girly jewelry!
Crystallized Chandelier Drop Earrings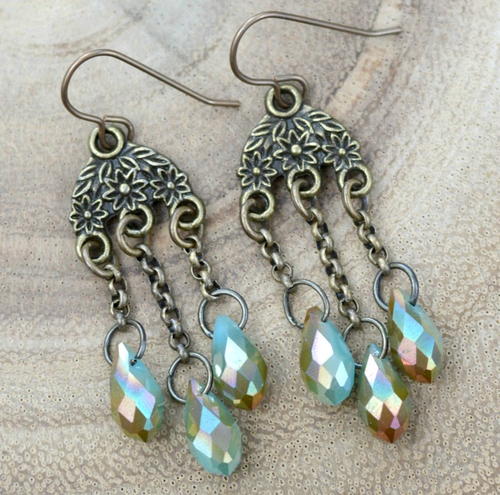 What was that? You think I'm royalty? It's because of my Crystallized Chandelier Earrings? Well, you'd be right because I'm a queen!
Sahara Statement Necklace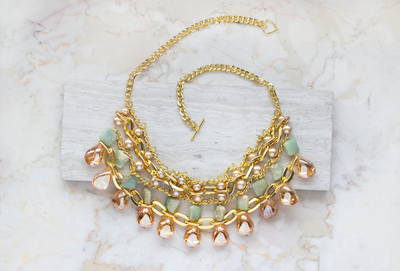 I mean, look at the sparkle on this Sahara Statement Necklace! Why wouldn't you want to wear that?
Entwined Pearl and Petal Bracelet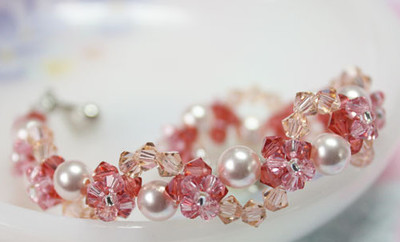 I had to save my favorite for last when it comes to sparkly jewelry. This Entwined Pearl and Petal Bracelet has everything: crystals, pearls, and a flower design.
Flower Jewelry Designs
Personally, I love flower designs on jewelry because it always makes me feel feminine and beautiful, so I hope these DIY jewelry designs do the same for you!
DIY Flower Hair Jewerly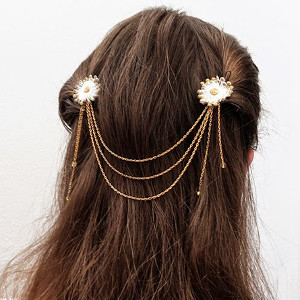 Flower Hair Jewelry? What could be more feminine than that?
Anthropologie Knockoff Daisy Chain Necklace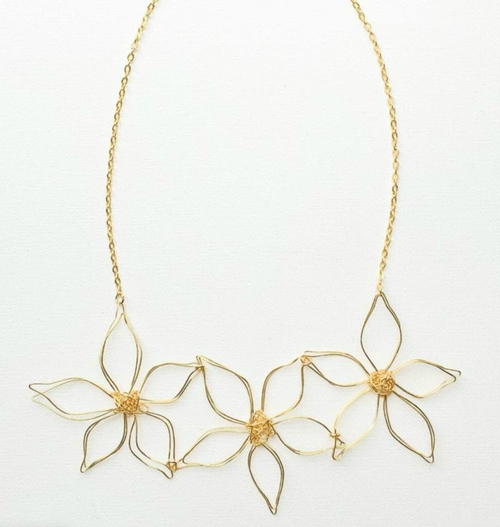 This Daisy Wire Necklace really can't be beat! It's simple yet flirty and girly all at the same time.
Girly Crystal Flower Necklace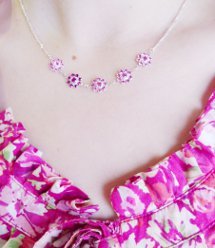 This one should be fairly obvious, I hope. I mean after all girly is in the name for this crystal flower necklace!
Flowers and Pearls Wrap Bracelet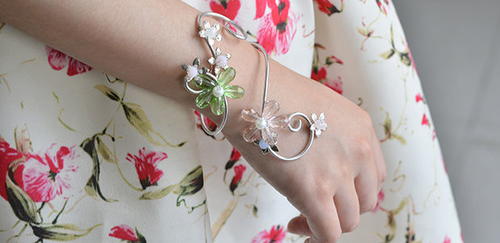 This is by far one of my favorite jewelry pieces. I could never wear this Flowers and Pearls Wrap Bracelet and feel ugly at the same time!
Rose and Ribbon Necklace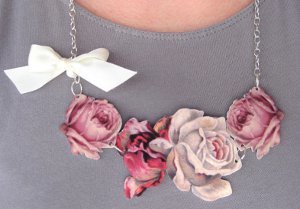 This really puts flower jewelry to the test! This gorgeous Rose and Ribbon Necklace is perfect for making you feel as beautiful as a blooming rose!
Mesa Rose Earrings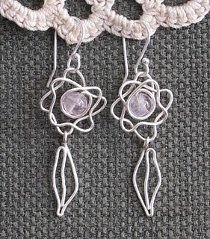 I'm going to reiterate the number one rule of accessorization: in this sea of gorgeous jewelry, don't forget about your ears! These Mesa Rose Earrings will be the perfect for them.
BONUS! Rosette and Crystal DIY Ring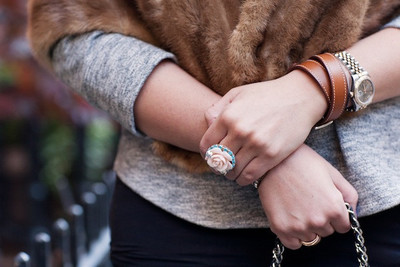 I had to give you at least one DIY jewelry piece that combined all parts into one, and in this rosy, crystal, pink ring was perfect for it!
What was your favorite outfit for your doll when you used to play with Barbies? Let us know below in the comments!
Latest posts by AllFreeJewelryMaking
(see all)