Step your card making skills up a notch with these free handmade birthday cards from AllFreePaperCrafts! Everyone loves to get a card from a loved one on their birthday, but it always feels more special when that card is homemade. Anyone who receives such a card feels special and loved knowing that their friend or family went through all the trouble to make a unique card themselves.
So this year on your best friend's birthday, rather than taking the easy way out and giving her a store-bought card that a thousand other people are also probably getting on their birthdays, make her a thoughtful, homemade birthday card. You'll be surprised by how easy it is and by how much of an artist you feel like afterward.
This list covers all your basics, plus everything from cards for the men in your life to cards that are being sent embarrassingly late (we've all been there). If nothing else, these awesome birthday card ideas will certainly be enough to get your creative juices flowing. Get out the paper and scissors; it's time to start crafting!
Fancy Handmade Cards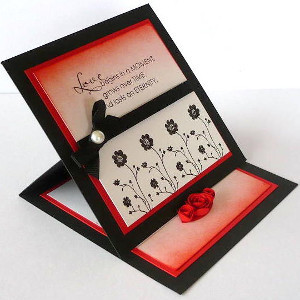 These cards are for the acquaintance you barely know but feel obliged to write a card to every once in a while.
A little bit fancier, these cards are great all-purpose handmade greeting cards that you can use as a birthday card. Appropriate for all occasions, these cards would be great for the in-laws.

1. Fancy Folds Card
2. Embossed Birthday Card
3. All-Purpose Quilled Greeting Card
4. Windswept Leaves Birthday Card
5. From All of Us Birthday Card
6. Have a Wonderful Birthday Card
Fun Handmade Cards

These cards are for the people in your life that you're a little bit more familiar with: the girlfriends, the sons and daughters, and the parents.
These cards are more laid back than the Fancy Cards, but they are just as beautiful-looking. These cards are full of wonderfully horrible puns, which is exactly why we've named them "Fun Cards."
7. Off to Neverland Card
8. 3D Butterfly Birthday Card
9. Hoo's There Birthday Card
10. Happy BIRD-Day 3D Card
11. Teddy Bear Birthday Card
12. Vintage Perfume Bottle Birthday Card
Masculine Handmade Cards

These cards are, simply put, for the person in your life who's not all that into ruffles and flowers. These happy birthday cards are still festive, fun, and perfect for birthdays, but without all the muss and fuss of pink and glitter.
They don't just have to be for the man in your life, however, as anyone would appreciate these awesome cards.
13. Masculine Shaker Handmade B-Day Card
14. Rustic Masculine Handmade Card
15. Fern Canyon Handwritten Card
16. Log Cabin Quilt Card
17. Easy Embossed Tree Card
Belated Handmade Cards

This is the card you meant to get around to sending but never quite did. Whoops! It's now 4 months later, and you would be too embarrassed not to send your friend or family member a birthday card, but it's so far past their birthday now that you have to address the fact that you're so late. The perfect solution? Send them this card that pokes light at the situation.
The recipient will find it too cute and funny to be mad at you, and your social faux pas will simply go forgotten…just don't forget again next year!
18. Slowpoke Belated Birthday Card
19. Bee-Lated DIY Birthday Card
What's your favorite way to make cards?
Latest posts by AllFreePaperCrafts
(see all)