Winter can be a hard time for anyone. Feeling like you're stuck inside is never fun, but it's even worse if you have nothing to do and no way to entertain your kids. If you have kids and are wondering how to keep them busy inside this winter, then you need to check out this list of 22 Easy Crafts for Toddlers. We've saved you the trouble of figuring out what crafts for kids to do on bad weather days. Cold winter days don't have to be a downer for you or your kids anymore—you'll have so much fun inside doing these indoor activities for kids that time will fly by and you won't even care that you weren't able to play outside all day! From art projects to fun homemade games and activities, this list has it all.
Art Projects for Toddlers
Turn a boring old winter day into a day you'll remember forever by making art for kids to hang up around your home. You will always be able to look at this cute art and remember how little your loved one was when they made it. Plus, it will release your child's creative side, something he or she might not get on a normal day spent in school. Nothing can beat that!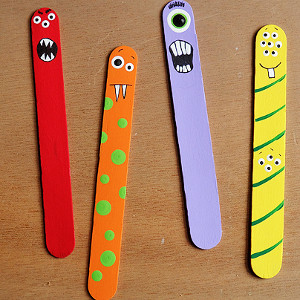 1.  What to Make With Popsicle Sticks
2.  Mess-Free Fingerpainting
3.  Bubble Wrap Art
4.  Wonderful Winter Tissue Paper Art
5.  I Heart Penguins
6.  Dragon Coloring Pages
7.  Bursting Star Fork Painting
8.  Tie-Dye Snowflakes
9.  Frozen Fever Snowgies
10.  DIY Coaster Set Made by Kids
11.  Sandpaper Fabric Painting
12.  Friendly Footprint Penguins
13.  Eye-Catching Marbled Fish Art
Games and Activities for Toddlers
If you're looking for a more interactive way to keep kids busy on a cold winter's day inside, try some of these games for toddlers. These would all be great ideas for entertaining multiple kids, so if you have more than one child, or your kid is having a play date, these would be the perfect games and activities to suggest. These activities for toddlers are designed to let your child's imagination run wild, so you both can have an amazing day, even if it is spent indoors.
14
.  A Pirate's Life for Me
15.  Unstoppable Bouncing Bubbles
16.  DIY 2-Ingredient Playdough
17.  Batman vs. Superman Checkers Set
18.  Handmade Ring Toss Game
19.  Cute Clothespin Fairy Dolls
20.  Homemade Board Games
21.  Carpet Putt Putt
22.  Toilet Paper Roll Binoculars
23.  Don't Eat Pete!
24.  All the King's Men
25.  Felt Face Game
26.  Paper Plate Noisemaker
For even more awesome ideas on how to keep your kids (and you!) entertained, head on over to AllFreeKidsCrafts!
What's your favorite rainy day activity?
Latest posts by AllFreeKidsCrafts
(see all)