Everyone has their favorite board games that they had as a child. Mine was Twister—I loved the action and the chaos involved in playing with lots of other kids. It also didn't hurt that it was the only thing that I was able to beat my sisters in! Games were my childhood. In my family, we were constantly playing games like Chutes and Ladders, Candyland, Uno, Skip-Bo, and Trouble. Now that I'm older and have gotten into crafting, I thought it would be nice to do a throwback to the best board games in some of my craft projects. This list of 35+ Easy Craft Projects Based on Classic Board Games includes some recycled crafts that reuse old and forgotten game parts of the games themselves as well as some home decor projects that pay homage to your favorite childhood games, such as Scrabble, Twister, Candyland, Checkers, Chess, Dominoes, Yahtzee, Backgammon, and Battleship.
Scrabble Tile Crafts
Scrabble lovers beware:  if you read on, you will probably fall so in love with these crafts that you will end up buying multiple Scrabble boards just to craft with the tiles. Scrabble tiles bring life to the homes of Scrabble and book lovers alike because they make the perfect embellishment to any home decor.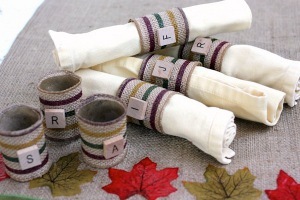 1.  Burlap and Scrabble Tile DIY Napkin Rings
2.  Scrabble Tile Coasters – Pin featured from Simply Darrling Blog
3.  Scrabble Tile Wine Glass Charms
4.  Scrabble Tile Necklace
5.  Scrabble Wall Art
6.  Let It Snow Ornament – Pin featured from Crafts by Amanda Blog
7.  Scrabble Tile Table Numbers
8.  Scrabble Tile Picture Frame
9.  Scrabble-Inspired DIY Wall Art
Twister-Inspired Crafts
Everyone's favorite game as a child is back and better than ever. From gorgeous quilts to remind you of your favorite activity to new and improved ways to play that even the adults will appreciate, you've never done Twister quite like this.
10.  The Twister Quilt
11.  Messy Twister – Pin featured from Creative Playhouse Blog
12.  Twister-Inspired Backdrop
13.  Global Twister
14.  Outdoor Twister
15.  Twister-Inspired Serving Platters
Candyland Decorations and Crafts
When you see these awesome Candyland-inspired crafts, you'll think you made it all the way to Candy Castle! These sugary decorations would be perfect for a Candyland-themed child's birthday party or as holiday decorations.
16.  Candyland Crochet Cowl
17.  Giant Pink Candy Cane Decoration – Pin featured from Kara's Party Ideas Blog
18.  Homemade Board Games
19.  Candyland Birthday Party Decorations – Pin featured from Idea Central Blog
20.  Cotton Candy Beaded Bracelet
Checkers
You can't talk about favorite childhood board games without mentioning Checkers. Odds are you probably played a fair amount of Checkers with your siblings on days spent indoors or stuck in the back seat on long road trips. So in honor of the classic game that saved you from boredom time and time again, make these awesome Checkers crafts!
21.  DIY Batman vs. Superman Checkers Set
22.  King Me Scarf
23.  Super Convenient Travel Checkers
24.  Checkers Game Afghan
25.  Checkerboard Outdoor Game Carpet
Chess
Chess:  the ageless game that will never die. If you were in the chess club in school, then you will definitely appreciate all of these unique chess-inspired crafts.
26.  DIY Giant Chess
27.  Chess Board Blanket
28.  Farmer King's Chess Set
29.  Quilted Kid's Chess Set
Dominoes
It's very likely that Dominoes was the game that you played with your grandparents every time you visited them. That's definitely true for me, so for that reason, Dominoes will always hold a special place in my heart. All of these unique Dominoes crafts take a fun twist on the classic game that you love.
30.  DIY Outdoor Dominoes
31.  Retro Dominoes Afghan
32.  Homemade Colorful Dominoes Game
33.  Domino Necklace
34.  DIY Cement Dominoes
More Board Game-Inspired Crafts
And now for the best of the rest! If you loved playing Yahtzee, Backgammon, or Battleship when you were growing up, then you will love these fun crafts inspired by the classic board games.
35.  Yard-zee DIY Backyard Game
36.  Backgammon Quilt
37.  DIY Battleship Folders
What was your favorite board game growing up?
Latest posts by FaveCrafts
(see all)