This wonderful jewelry series is coming to a close. So, I figured what better way to end it than with showing you a bunch of ways you can deck yourself out in lace jewelry! If you are coming into this series a little late, you should definitely go check out part one, which is all about feathers, and part two, which is all about leather. In any sense, though, welcome, or welcome back, to this lovely series that is showing you all the different rustic jewelry patterns you can create to give you that perfect rustic-country look!
Now, not only are these country-styled patterns great pieces to add to your fall jewelry collection, but they are also super chic and easy to pair with tons of different outfits. These rustic jewelry patterns will have you set for any occasion where you wanna be a little more country!
This particular section is going to show you all the different ways you can add elegant lace to a country pattern to give you a true authentic rustic vibe. Plus, all of these different styles, feather, leather, and lace, work together beautifully and are fantastic to mix and match with each other within your DIY jewelry collection!
Not only are these different rustic jewelry pieces going to have you totally prepped and ready for fall, but they are also super easy DIY jewelry patterns to make! What more could you ask for? Anyway, without further ado, check out these stunning lace jewelry projects that will leave you feeling like a rustic country queen!
Rustic DIY Jewelry Patterns For Fall: Part Three
Lovely in Lace
Finally, we are going to wrap everything in this series up by showing you some astoundingly beautiful lace jewelry pieces. As per usual, we will be starting with the ears and working our way down for the different types of jewelry you could make.
Easy Lace Earring Tutorial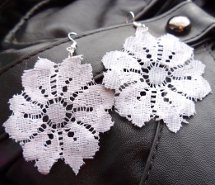 Starting from the head and working our way down, I was super excited to show you this lace earring tutorial! These gorgeous lace earrings add a super chic rustic look to any outfit you wear. If you pair this with your favorite pair of jeans, you will definitely turn heads and look like a rustic country queen!
Dipped in Gold Lace Earrings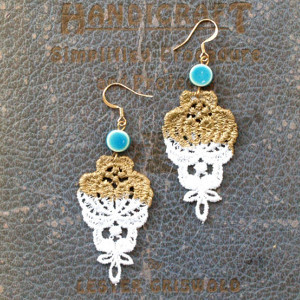 If you're looking for some earrings that truly make you feel like a golden rustic goddess, then these Dipped in Gold Lace Earrings are exactly what you need. These DIY earrings are super easy to make and will leave you looking stunning!
Lovely Layered DIY Necklace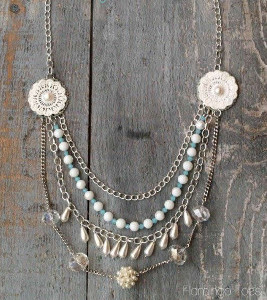 This has got to be by far one of my favorite rustic jewelry pieces. Moving below the ears, this necklace is the epitome of creating a rustic chic necklace. The pastel colors and the gorgeous lace accents make this Lovely Layered DIY Necklace a must-have in your rustic DIY jewelry collection.
Leather and Lace Bracelet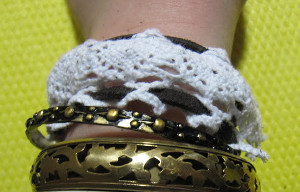 You can't create a rustic jewelry collection without throwing in some leather and lace! This gorgeous Leather and Lace Bracelet is the perfect combination of rustic brassy tones and elegant lace touches. This will really get you into that country chic style for fall!
Super-Sweet Beaded Bracelet Pattern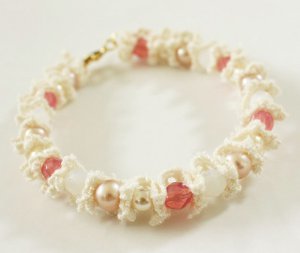 If brassy tones are not exactly the rustic style you were going for, this stunning beaded bracelet pattern is the perfect match for you then. This bracelet has a heavier focus on light colors and soft lace, which is another great rustic jewelry angle you could go for!
Lovely Leather and Lace Bracelet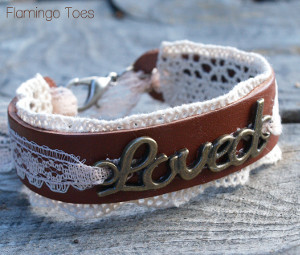 I did save my favorite piece of rustic jewelry for last. To me, this Lovely Leather and Lace Bracelet is the epitome of creating some super cute country chic jewelry. The perfect mixture with the lace and the leather makes this bracelet not only undeniably gorgeous but also perfect for your rustic jewelry collection!
BONUS!
For an added bonus you can go beyond making rustic jewelry patterns, to making a rustic jewelry organizer! This Lacy Vintage Earring Organizer will have you truly transforming into a rustic country queen!
Now that you have finished up reading all about the lace jewelry patterns you can create to give you that rustic feeling, be sure to check out the other two parts to this three part series! The first post is all about how you can make feather jewelry with a rustic-country vibe. From there, you can transition over to some super rustic jewelry patterns when you get into part two of this series, which is all about making some crazy gorgeous leather jewelry patterns.
What is your favorite rustic lace jewelry piece?
Latest posts by AllFreeJewelryMaking
(see all)