Now ladies while we all like to pretend we don't get a say in what our engagement ring will look like, and we like to make it seem like it is a test on how well your significant other knows you. We can all be honest with each other right now and just admit that we drop hints to them as well as anyone and everyone he could potentially ask or even come in contact with. Your sisters, his sisters, your mother, his mother, the man at the jewelry store that you possibly paid to work crazy doubles on the off chance that your soon-to-be-fiance will waltz in there searching for help on which ring to pick out. I mean we cover all of our bases okay! You want an engagement ring that is going to match the wedding jewelry you already have picked out on your Pinterest board. Whether you are the type of girl that is going to pick out your engagement ring with your significant other, or you're going to get "surprised," you should definitely take a peek at these upcoming engagement ring trends.
I know it may seem weird because engagement rings are meant to be timeless jewelry pieces that could never "go out of style," but don't worry, that theory still applies with this current jewelry trend. It's not about following the most popular diamond cut, it's actually much more personal than that. This jewelry trend is giving brides the opportunity to drop hints at their significant other about wanting a custom band. There are so many different band designs out there now for engagement rings, that each have their own affect on making your ring a true piece of romantic jewelry that could never possibly go out of style. However, the most difficult part of dropping hints to your significant other now resides in the fact that you have to figure out all of these different band styles and which one best represents what you want! Don't worry, I'm here to help you with that!
All About That Band: Engagement Ring Jewelry Trends
Rose Gold Rings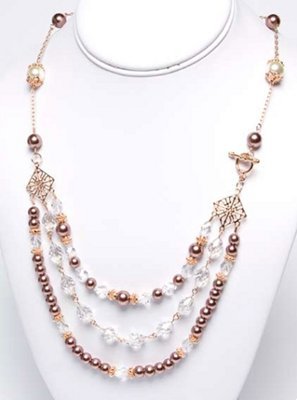 For starters one engagement ring band that is becoming increasingly popular is simply centered around the color rose gold. This is a very rosy pink color that would take place of the traditional silver band that accompanies the diamond. This color is seen as more romantic and flirty among women and it has been growing in popularity over the course of a few years. Plus, the real big bonus on this color is that it flatters all different skin tones. You can even pair your lovely engagement ring with this gorgeous Rose Gold Necklace.
Embellished Bands
Buckle up ladies because this jewelry trend is all about being glamorous from every angle. This engagement ring trend actually revolves around having a glitzed up band, so that your ring can sparkle from miles away at any angle.
Twisted Bands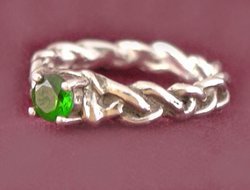 Nothing says beautiful like a glamorous braided or twisted band. This braided ring tutorial shows you how you can achieve this band from home if you wanted to make some super gorgeous DIY rings to match your engagement ring. This is a truly beautiful jewelry trend that helps to keep an engagement ring band simple yet personalized.
Floral Accents
Believe it or not, there are bands with floral accents to them. Whether it be flowers, petals, vines, or leaves, these engagement bands are somehow drawing from a natural element. This kind of band pulls a very whimsical, fantasy-to-reality feeling that many brides to be are loving!
Ornate Bands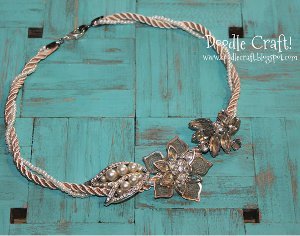 This band solely revolves around the concept of keeping a vintage feeling to their band. These engagement ring bands are typically textured to some extent due to the heavy amount of embellishments they carry. Much like the elaborate side view concept these bands like the idea of an elaborate band, but just with a more vintage twist.  For a great jewelry piece to match your vintage-style ring, check out this Anthropologie Inspired Vintage Necklace.
Stacking Bands
This is another very intricate band style. Particularly, this style revolves heavily around the idea of taking two bands that can be worn separately, and are embellished to your desire, that you then can put together to create one amazing engagement ring. This is definitely one of the more creative band choices for the current engagement ring trends.
Over Under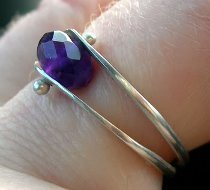 Finally, there is the ever popular over under engagement ring band. This is simply a band that can be either left open or closed that envelopes the diamond without completely covering it. As shown in this DIY ring tutorial, you can see how the diamond for your engagement ring would have an open space around it, so that the sole focus is on the diamond instead of the band. Meaning, while this is still an engagement band trend, it helps to center the focus your diamond instead of your engagement ring band.
That wraps up all of the numerous engagement ring band types you have to choose from! If you want to go an even further step into making your engagement ring completely personalized to you, you could actually choose to craft your own engagement ring. These Make Your Own Engagement Ring and PMC Diamond Ring tutorials can take you step-by-step through the process of creating your very own engagement ring. Also, ring fit can be tricky, so check out this Ring Resizing Guide to give you a fix that will allow you to keep that ring on your finger! Also, when the big day comes and you need to start planning your wedding don't forget to hop on over to AllFreeDIYWeddings to find great and creative ways to have the perfect wedding.
What is your favorite engagement ring trend? 
Latest posts by AllFreeJewelryMaking
(see all)