Watch out, woodland critters! There's a new animal trend in town–African mammals. For the past few years, stores have stocked their shelves with animals you might find in the forest, including owls, foxes, and even hedgehogs. These cute creatures have had their moment in the sun, and now exotic animals are taking their place. Here are some animal crafts that make great gifts for everyone on your list. Check out the projects below for some craftspiration as well as some education.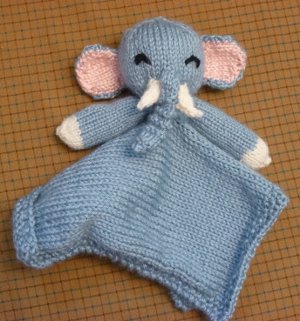 Did you know? Those trademark ears aren't just for show; they help the elephants stay cool in hot climates by releasing excess body heat.
Elephant Lovie Blanket for your junior zoologist
Gracie the Tiny Elephant – A pocket-size pal for the road
Knit Floral Elephant – Knit elephants with feminine flair
Elephant Crochet Hat makes a cute baby shower gift
CHRISTMAS BONUS: Elephant Angel Ornament – Show off your quirky side with thhis handmade ornament. When it comes to Christmas sewing patterns, you can't get more original than this project.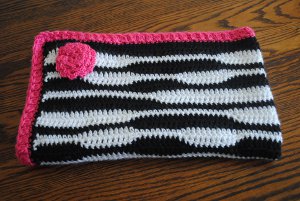 Did you know? Zebra stripes make it difficult for predators to pick out one member of the herd, while making it easier for zebras to recognize one another.

Cuddly Zebra Blanket (pictured)
Zebra Wall Canvas – Go wild with your home decor!
Zebra Finger Puppet for the classroom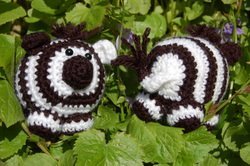 CHRISTMAS BONUS: Zachery Zebra – A great traveling companion for little ones, Zachery fits comfortably in almost any stocking. Even if you can't afford to take your family on safari, you can teach them about wildlife with precious amigurumi patterns.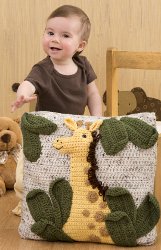 Did you know? The name "giraffe" comes from the Arabic word zarafa, which translates to "fast-walker." With those long legs, we can see why!

Giraffe Pillow – A great addition to a jungle themed nursery
Felix the Fun Giraffe – Craft a giraffe out of clay
Giraffe Baby Hat and Costume – So precious!

CHRISTMAS BONUS: Beanie Sock Giraffe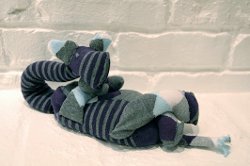 – Give the gift of a soft and cuddly companion. All you need is socks and a few cups of rice to put together this adorable stuffed toy pattern.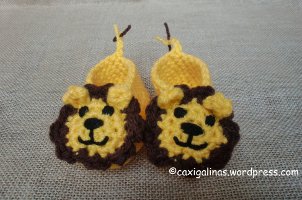 Did you know? A lion's roar can be heard from 5 miles away!
Adorable Lion Baby Booties (pictured)
Leonara the Little Lion makes a cute ornament, too!
Lion Finger Puppet
CHRISTMAS BONUS: Silver Streak Lion Ornament – A quirky take on the King of the Jungle, this ornament is a great way to get the kids into the holiday spirit.
What is your favorite animal to craft?
Latest posts by AllFreeChristmasCrafts
(see all)