Baby, it's cold outside! Winter can be a tough time because you have to completely bundle up with a thick coat and boots before you can even leave your home. With all that prep work, it can be hard to think about finding winter accessories that are both warm and cute. We've made that easy for you by compiling a list of 25 Winter Accessories to Keep You Warm! Just because you have to cover yourself in bulky winter gear to stay warm doesn't mean you have to give up on expressing your personal sense of style. Kill two birds with one stone by using your winter scarves, knit hats, and crocheted gloves to accessorize your boring old winter coat. Not only will you stay wonderfully warm, but you'll also look great doing it!
For Your Neck: Scarves, Cowls, and Snoods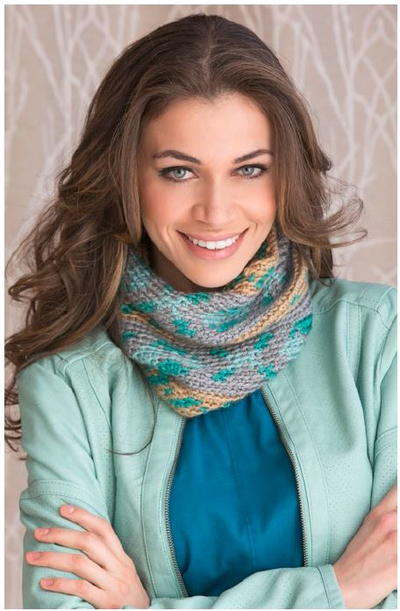 On cold winter days, you can never dress too warmly. One thing that will never fail to keep you toasty is a nice winter scarf. Even a single layer around your neck is enough to make your whole body feel warmer, so any type of neck warmer, such as an infinity scarf, is a precious asset during the cold winter months. Scarves, cowls, and snoods are our favorite winter accessories to keep you warm because they are so fashionable that you can wear them both indoors and out!
1. Fair Isle Crochet Cowl
2. Easy Mistake Stitch Scarf
3. Classic Infinity Scarf
4. Four Row Holey Cowl
5. Beginner's Crochet Scarf
6. Pure Luxury Scarf
7. Shades of Grey Snood
8. Fabulously Fluffy Snood
For Your Hands: Gloves, Mittens, and Hand Warmers
If you don't want to keep your hands in your coat pockets all winter long, better not forget about winter accessories that will keep your hands warm! These gloves, mittens, and hand warmers will not only keep your hands warm during those long hours spent shoveling the driveway, but they also look incredibly stylish! Everyone is especially loving our crochet fingerless gloves right now, so be sure to check those out!
9. Striped Hand Warmers
10. Dip-Dyed Baby Mittens
11. Fair Isle Gloves
12. Purple Passion Mittens
13. Vintage Houndstooth Gloves
14. Two-Hour Fingerless Gloves
15. Candy-Striped Texting Gloves
16. Superbly Striped Wrist Warmers
17. Fair Lady Gloves
For Your Head: Hats and Ear Warmers
Last but not least, winter accessories for your head are a great way to stay stylish all winter long. It can get pretty boring wearing the same coat day in and day out, especially if that coat is a dark color. While it's not so easy to buy a new coat every time you get sick of yours, it is easy to switch up your winter hats every once in a while. Pairing your boring old coat with one of our fun, colorful knit hat patterns can add some life back into your winter.
18. Snow Drift Crochet Hat
19. Classic Winter Ear Warmer
20. Cable Crush Winter Hat
21. Comfy Cozy Headband
22. Easy Slouchy Beanie
23. Criss-Cross Crochet Headband
24. Super Bulky Whirls of Hope Hat
25. Celestial Ear Warmer
What's your favorite way to stay warm in winter? Let us know below in the comments!
Latest posts by CraftPaperScissors
(see all)