Sometimes the most beautiful pieces of jewelry are the most delicate and intricate pieces. You know the type, the ones that look as if they could fall apart with one touch? But then you pick them up, and realize these smaller and lighter pieces are just as durable as anything! I've always been awed by anyone who has the ability to create such beautiful and detailed pieces of jewelry. So, when I found this tutorial for Christopher Earrings, I was so excited! Now I can finally learn and understand how jewelry makers are able to design such flawless accessories. These DIY earrings are a must-have in your jewelry box.
These delicate little dangles are a great DIY earrings pattern to pull out for spring. The light and bright colors will pair perfectly with any spring outfit. You can wear these at work to brighten up your outfit, or on the weekend when you're enjoying the company of your friends and family! One thing is for sure, these little gems will garner compliments no matter where you go.
Love these DIY earrings? Make sure to check out other gorgeous patterns from AFJM: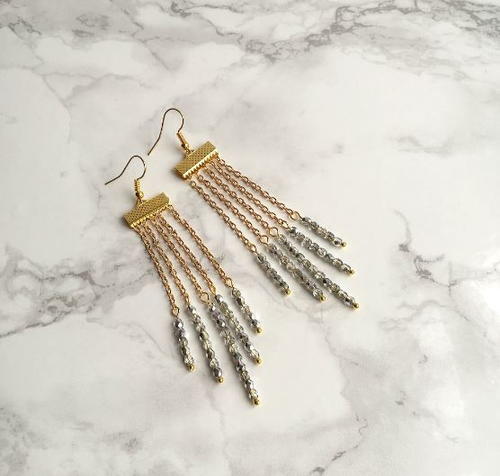 These gorgeous DIY earrings will make you wonder why you ever used to buy accessories from the store! Looking stylish doesn't have to empty your wallet. What better way to make your fashion your own than to customize your accessories?
Let us know—what's your favorite type of jewelry project?
Latest posts by CraftPaperScissors
(see all)