Print This Post
Construction paper crafts gets a bad rap.  Of all of the different papers that can be used for crafting and DIY projects, construction paper is most often associated with kid's projects and elementary school crafts. I have to admit, with a 6 year old in the house, we have our share of construction paper around here that we use for school and everyday art projects.  I usually reach for cardstock or patterned scrapbook paper from my stash when working on a project, but these tutorials I am sharing here today have me eyeing the kid's supplies!  Yes, you can find construction paper in large packs at most dollar stores, but you an also find it in larger sheets in more saturated colors at your local hobby or craft store.  The next time you are out shopping, pick up a few sheets and try one of these grown-up construction paper projects.  Another plus to these projects is that most of them use 2-3 supplies/tools you already have on hand (glue, scissors, stapler) in addition to the paper which makes them even more economical.
Construction Paper Chalkboard:
Chalkboards and chalkboard inspired art are still very much on-trend.  Create your own inexpensive chalkboard with black construction paper and white glue. These would be fun to use as party and wedding decor!
Paper Flower Tutorial:
Create these delicate buds in an array of colors.  Fill a vase with the completed stems for a striking centerpiece.
Construction Paper Garland:
The construction paper garland is all grown up!  The ombre effect and gentle scrolls of this garland make it a sophisticated statement piece.
Construction Paper Stones:
Construction paper and clear nail polish are all that are needed to make "stones" from paper.
Origami Cubes:
Created with a few simple folds, these little cubes fit together like puzzle pieces.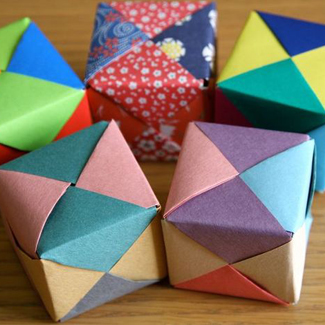 Construction Paper Basket
Create these simple baskets in any color to use as holiday or party decor.
Paper Flower Crown:
These beautiful paper crowns would be so pretty as a photo prop, make them for your child's party, or make them larger for the adults on the guest list as well.
Foldable Paper Garland:
Perfect project for all of your summer parties.
Woven Paper Balloons, Jars, and Balls:
You have to check these out, you just have to!  These stunning 3 dimensional objects create with paper are sure to inspire you to try making one for yourself.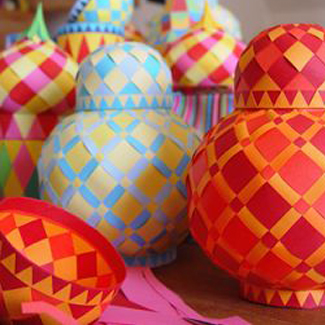 Quilled Monograms-These inexpensive monograms use basic quilling techniques and can be created in any color or size.
Chic and Cheap Wall Art DIY– Hang your big block initial on your wall or stand it on your desk.
Lily of the Valley Quilled Flowers-This gorgeous faux bouquet of lilies will brighten up any room you choose to put them in!
Have you used construction paper in a project lately?
I live with my husband, 7 and 4 year old daughters, and a pug named Pixie in Crystal Lake, Illinois which is in the 'burbs NW of Chicago.
I started scrapping in 2006 and was quickly addicted!I was an avid scrapper until late summer of 2010 when we started our adoption journey, at that point I was overwhelmed with paperwork (and emotions!) and I had to put something on the back burner in my life but I knew I would eventually come back to it.
We welcomed our daughter home from China in December of 2011 and a few months later I found my groove again and pulled out all of those supplies that had been tucked away.
I started out scrapping again doing traditional layouts, but at the beginning of this year I jumped into Project Life and I love it!
When I'm not scrapping I am usually spending time with our daughters which means library time, going on walks, thrifting (they love it as much as I do!) or watching Kung Fu Panda for the millionth time.I also have an Etsy shop Panda Eight Designs where I sell scrapbooking flair that I design.
Print This Post