If you jumped into this post super excited realizing that this is part 3, meaning there is a part 1 right here: DIY Beauty Products for Fall's Beauty Trends Part One, and part 2 here: DIY Beauty Products for Fall's Beauty Trends Part Two, then be sure to go and check out those awesome posts as well! This blog series is all about breaking down Fall's upcoming beauty trends, but more specifically post 1 is how to maintain that healthy radiant glow in your skin, and post two is all about the upcoming foundation or face makeup trends. For those of you who have already read post 1 and 2 and have come back for more, WELCOME BACK. I hope you all are excited, though, to be discussing the upcoming lip trends that are going to blow your mind, and even better, I'm going to pair it with some DIY makeup products that could very well blow your mind even more!
Personally, I kind of maintain that fall-esk deep sultry dark lips all year round because honestly there really aren't any rules with makeup and I like how it looks. So, naturally, I was super pumped to discover that this fall is going to be all about red as a rose or smoky and sultry. But, anyway, I am super pumped to show you guys some DIY beauty tutorials that are going to keep you look undeniably fab for the entire fall season!
DIY Beauty Products For Fall's Beauty Trends: Part 3
Pucker Up Gorgeous
Velvety Smooth: DIY Beauty Products For Soft Lips
So, if you guys are lip junkies like I am, you would have known that this summer was all about those super matte liquid lipsticks, that wouldn't rub off you even if you were swimming in a pool of lava. This fall is switching up this beauty trend and focusing on having velvety smooth lips. The ideal for this trend is to have smooth, soft lips that ultimately have more of a satin than matte finish. This means that it won't be a gloss and it won't be a matte, but it's a more in-between phase. Obviously a great way to keep your lips looking soft and luxurious is going to be by applying lip balm. This tutorial will help you figure out the basics of how to make lip balm, and from there you can experiment with flavors like this Homemade Peppermint Cocoa Lip Balm!
Pro Tip: Another great way to keep those babies soft would be by using some sort of lip scrub that could range from using a toothbrush to brush off the dead skin to making an easy sugar scrub at your house. This Coconut Lime DIY Sugar Scrub is great because you can use it for your body and your lips to have an all over soft and smooth appearance!
Overdrawn? Yawn!: Natural Makeup For Natural Lips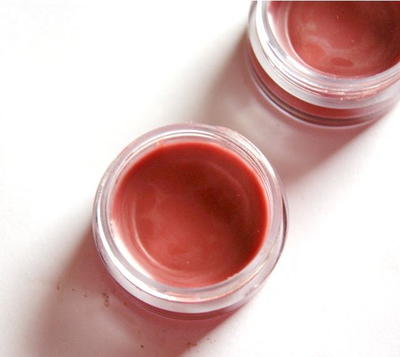 This fall is going to be all about how big is not always better when it comes to your lips! No more focusing on overdrawing your lips to get that Kylie-inspired look. Instead, embrace what your mama gave you and pucker up! Trust me I understand that it can be hard to give up your overdrawing habits, and you don't necessarily have to ditch the big lips. There are great DIY makeup products that can help you naturally plump up your lips for a fuller look. This Homemade Cinnamon Lip Balm will help your lips plump up in a natural way so you get the best of both worlds in following this fall beauty trend and keeping your lips looking naturally larger. If you want an extra boost on this lip plumper you can add a dash of cinnamon oil instead of only using ground cinnamon too!
Red as a Rose: DIY Makeup For Fall's Beauty Trends
Finally, the moment I'm sure you have all been waiting for, the actual lip colors that are going to be all the rage this fall. For starters smoky and sultry is always going to be a fall favorite. Whether you are pulling out those deep plums or vampy reds, you cannot go too dark this fall. Try out this gorgeous Wine Stain DIY Lip Gloss and pair it with your favorite liner for a gorgeous fall look! A little twist to this though would be that bright, hollywood-style, red is also going to be in this fall. However, for the fall, they are not only throwing this fun bright red color at you. This fall beauty trend is going to be all about pairing a bare eye with this bold red lip. By bare eyes I mean you can choose to go with absolutely nothing on your eyes, or, if you were cursed with blond eyelashes like me, you can dab on a light coat of mascara. The focus is meant to be all about your beautiful soft lips that I'm sure you are all going to work very hard to maintain. What's very exciting is that if you are itching for a new red lipstick, or don't feel like you have any that are the perfect shade of red for you, you can try out this gorgeous Ripe Red DIY Lip Stain, and customize it to your preference!
Finally, I will be wrapping up this series by talking all about the eye makeup trends that are going to be coming your way, so be sure to stay tuned for that! Also, if you haven't checked out the previous blog posts about DIY skincare(part one) or face makeup (part two) be sure to go take a peak at those too!
What fall beauty lip trend are you most excited for?
Latest posts by DIY Idea Center
(see all)