Print This Post
This post is brought to you by Martha Bonneau from MugsyBoo.
---
As the snow falls outside my window making my yard look like a winter snow globe, I am inspired to share some of my favorite shaker cards and paper crafting projects with sequin and confetti pockets. It is all too easy to assume that cards and scrapbook layouts would be flat and static, but shaker cards prove that idea to be false. These projects beg to be picked up and given a shake or two!
Shaker cards can be filled with just about anything. The first things that come to mind are probably sequins, confetti, and glitter but you are only limited by your imagination. How about a card filled with coffee beans  or cupcake sprinkles  and candy …these cards look good enough to eat! To get you started here are a few favorite shaker card tutorials.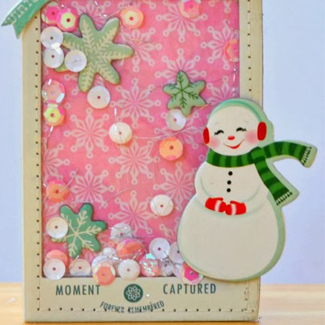 Falling Snow Shaker Card Tutorial
Now that you have learned how to make a shaker card, let's get creative! From the basics to a card with a gel window pocket, you will be creating shaker cards for all occasions. Some of these even have video tutorials which I love, as a paper crafter I am a visual learner so this makes learning a new technique even easier.
Celebrate Shaker Card with Video Tutorial
Filled With Love Shaker Card with Video Tutorial
Don't feel left out if you are a scrapbooker or pocket page scrapper; you can create the shaker card effect on your pages by creating pockets that can be filled with embellishments. Confetti pockets  add a touch of whimsy and added dimension to scrapbook pages and journaling cards. I have created sequin pockets on some of the pages in my Project Life album and these are my daughter's favorite pages!
Pocket Page Scrapping Confetti Pockets
Have you created a shaker card? What did you fill it with?
I live with my husband, 7 and 4 year old daughters, and a pug named Pixie in Crystal Lake, Illinois which is in the 'burbs NW of Chicago.
I started scrapping in 2006 and was quickly addicted!I was an avid scrapper until late summer of 2010 when we started our adoption journey, at that point I was overwhelmed with paperwork (and emotions!) and I had to put something on the back burner in my life but I knew I would eventually come back to it.
We welcomed our daughter home from China in December of 2011 and a few months later I found my groove again and pulled out all of those supplies that had been tucked away.
I started out scrapping again doing traditional layouts, but at the beginning of this year I jumped into Project Life and I love it!
When I'm not scrapping I am usually spending time with our daughters which means library time, going on walks, thrifting (they love it as much as I do!) or watching Kung Fu Panda for the millionth time.I also have an Etsy shop Panda Eight Designs where I sell scrapbooking flair that I design.
Print This Post