When it comes to pampering yourself, let's face it, it can be hard to fit in time to freshen up and relax. Going to the spa can be quite expensive and it's hard to carve out a chunk of time in your busy schedule. We get it. Even though we all deserve some time to relax, we know it's next to impossible most days.
That's why we're here to teach you how to give yourself a spa day with just some creativity and a few ingredients you already have in your home. There are many ways to do a DIY Spa Day and many reasons to not spend big bucks at a fancy spa. Next time you feel like spending time with your mom, girlfriends, best friend, or just yourself, consider planning a spa day at home.
Mother's Day is also a great way to surprise your mom with a home spa day. I'm sure she will appreciate it much more than a gift card! Quality time means so much these days. Planning a bridal shower or bachelorette party? My mother-in-law made DIY sugar scrub to give to guests at my bridal shower and people loved it! My friends and I are planning a spa day for our friend's bachelorette party and I can't wait to try some of these ideas!
Homemade Body Scrub
As I mentioned above, my mother-in-law's DIY sugar scrub was a huge hit with my bridal shower guests. Homemade sugar scrub makes for a great DIY gift for mom too and it's never too early to start planning for Christmas, right? Whip up a batch of homemade body scrub by following these body scrub recipes and you'll be well on your way to a DIY spa day.
How To Make Bath Bombs
When was the last time you had a bubble bath? That's what I thought. DIY bath bombs are fun, fizzy, and relaxing. Make a diy bath bomb for yourself or to give as a gift. Homemade bath bombs are way cheaper to make than to buy so these tutorials are bound to save you a bunch of money.
DIY Hair Mask
I have the most frustrating hair. If I blow dry it, it's frizzy. If I let it air dry, it's frizzy. Perhaps I should try a DIY hair mask? DIY hair masks are free from harmful chemicals found in store-bought masks and will help cleanse your dry and frizzy hair. They are especially good for curly hair. Try one of these home remedies for dry hair and I think you'll be pleasantly surprised!
How To Make Soap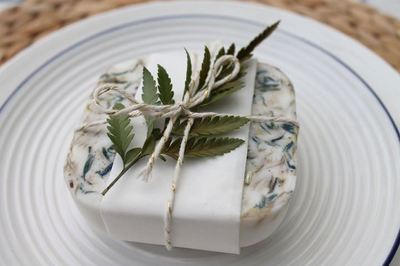 My skin had a rough winter here in the freezing cold Chicago winter. Due to the dry heat indoors, my skin could use some TLC. Learn how to make your own soap and treat your skin to a more natural moisturizer. I'm especially excited to learn how to make lavender soap because I love the smell of lavender!
How To Make Washcloths
Have you treated yourself to a DIY spa day yet?
---
Follow FaveCrafts's board DIY Spa Day on Pinterest.


Latest posts by CraftPaperScissors
(see all)