Here's a frightful tale to get you into the Halloween spirit: the crisp autumn air picks up a sinister chill. The neighborhood is suddenly overrun with glowing Jack-o'-Lanterns, each one scarier than the last. Stores everywhere watch their shelves mysteriously empty, leaving only the most unwanted candies behind. But the most chilling part of our spooky scene? Halloween is only a little over a week away, and your kiddos are still missing their costumes.
It happens to families everywhere, every year. Don't worry, procrastinating parents! You can avoid this Halloween disaster. Skip the mad dash through picked-over costume stores (and while you're at it, save your cash) by making homemade Halloween costumes this year! Whether you start crafting your child's costume today or you wait until the very last minute, these cheap and easy Halloween costumes will have you covered. Browse these awesome DIY costume ideas and discover the fun Halloween surprise we have for you at the end of this post…
Become a Scurvy Sea Dog…
Does your little one want to sail the seven seas this Halloween? A pirate is one of the most fun homemade Halloween costumes around! Simply create a pirate hat and devious mustache out of felt, grab an eye patch, and voila! Of course, no pirate costume is complete without a pirate sword!
…or Flutter into a Fairy Tale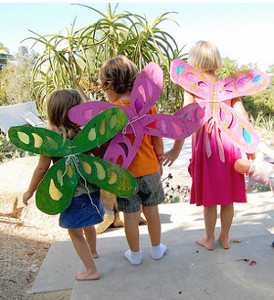 For a fanciful Halloween, all you need is a set of glittering fairy wings and a matching tutu! While you work on making a stunning set of wings, your little one can learn how to make a tutu all on her own. You'll be done with this easy Halloween costume idea before your little princess is finished singing "Bibbity, Bobbity, Boo!" If you have a little more time to spare, use this Fabulous Fairy Costume tutorial to create a custom costume from head to toe.
Munch on a Sweet Treat…
Halloween is all about the candy, right? So why not translate the sugar rush kids love into a quick and easy DIY Halloween costume? Novice seamstresses and experts alike can whip up this Sugary Sweet Candy Corn Costume in no time at all. If candy corn isn't your kids' most coveted Halloween treat, don't worry; you can make an M&M Costume or a Five Dollar Candy Costume instead.
…or Crawl into a Creepy Costume

The best homemade Halloween costumes are the ones that use supplies you already have in the house, like this Creepy Crawly Spider Costume! Simply dig through your child's closet and grab some googly eyes, and in no time your little ones will have sprouted a few extra legs.
Save the World…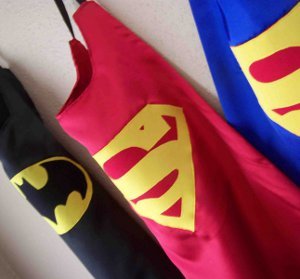 If your kids are crazy for comic books, they can become their favorite hero in just a few easy steps. Start with a super simple Comic Book Hero Capes and make a matching mask to complete the look. Have a lovely little girl that wants to be a superhero, too? If Superman's not her style, try this 10-Minute Supergirl Costume!
…or Terrorize the Neighborhood
You'll be as crafty as Doctor Frankenstein himself when you transform your little monsters into something truly terrifying. Save some time on this easy homemade Halloween costume idea by sewing patches on clothes your kids already have. In no time at all, your kids will be ready to limp and groan their way through trick-or-treating. Want something a little less frightening for smaller children? This No Sew Monster Costume is comfy, cute, and oh so easy to make.
Alright, procraftinators (and no, that's not a typo), if you've come this far and you still say you don't have time to make homemade Halloween costumes for your tiny trick-or-treaters, these easy DIY costume ideas are absolutely effortless. We swear, you can make them right before you walk out the
door on Halloween.

BONUS GIVEAWAY!
A painted face is an easy way to give all your homemade Halloween costumes a little something extra, and now you can learn to paint like the pros! In honor of the spookiest day of the year, we are giving away 5 copies of an amazing eBook filled with the best face painting ideas around!
Ambah O'Brien is an award-winning body painter, and she's compiled tons of face paint tutorials into her eBook, Face Painting with Ambah. From fanciful fairies to precious puppies to frightening vampires, you'll find plenty of ways to make this year's Halloween one to remember. You won't find these designs anywhere else!
To enter for your chance to win a copy of Face Painting with Ambah, simply answer our question in the comments below. Contest begins TODAY, October 22 and ends on October 28 at 11:59 pm. Don't miss your chance!
Tell us: What's the best Halloween costume you've ever had? Was it homemade?
Latest posts by AllFreeKidsCrafts
(see all)