Print This Post
Have you got everything planned for your fall wedding except the cake? Our collection of fall wedding cake ideas is sure to get you inspired and to help you design your own cake. There's so much great inspiration out there for fall wedding cakes–there's endless possibilities!
We love fall color schemes and wedding decorating ideas. There's just something so cozy about a fall wedding, and hopefully, you'll find this list of cakes a useful resource when planning a romantic, fall wedding.
Fall Wedding Cake Ideas
1.) Birch Wedding Cake from Koru Wedding Style (Photography by ByCherry Photography): we're simply in love with everything rustic when it comes to fall weddings and the cakes are no exception. Also, birch serves as great inspiration for other wedding decor ideas.
2.) The Cake That'll "Leaf" You Breathless: this cake proves that fall leaves can be the star of the show and make a big statement. Get the tutorial here.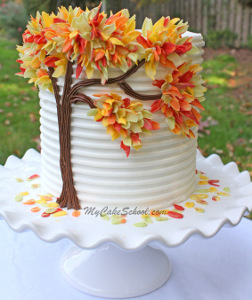 3.) Go for the Gold Cake from The Cake Blog (Cake Design by Coco Paloma Desserts, Photography by Kristen Kilpatrick): a hint of gold on a cake goes a long way. It adds the perfect amount of glamour.
4.) The Pumpkin Cake: pumpkins are also a great way to add color to any decor or cake. Get the tutorial here.
5.) The Orange Cake from Lael Cakes (Photography by Jen Huang): If you really want to get into the fall theme, then orange is a must. Pumpkins are also a great way to add this color to any decor or cake.
6.) The Floral Cake: the orange and gold combination on this cake is simply divine. It proves that you can still decorate your fall cake with unconventional fall flowers and still achieve the perfect fall color scheme.
7.) Barely Naked Cake from Hey Wedding Lady (Cake Design by Sky's the Limit! Custom Cakes & More, Photography by Crystal Stokes Photography): we LOVE naked wedding cakes because they instantly have that rustic look. For fall, an embellishment of mixed berries is simply divine.
8.) Apple Orchard Wedding Cake from The Perfect Palette (Cake Design by Tiffany's Baking Co.): nothing reminds us more of fall than fresh-picked apples. We like the idea of keeping it simple by decorating a cake with apples.
9.) Bronzed and Beautiful Cake from City View Bakehouse (Photography by Rachel Peters Photography): this color choice is both rustic and glamorous all at once. We're sold!
10.) All About That Lace Cake from Colin Cowie Weddings (Cake Design by the Frosted Cakery, Photography by Hannah G. Photography): an all-white cake is a classic for any season. We're including lace in that list of classics because it's so undeniably elegant.
11.) Blushing Rose Gold Cake from Erica Obrien Cake Design: just like a blushing bride, rose gold has a feminine and glowing appearance. This cake is a great example of metallic at its best.
What's your favorite cake flavor?
AllFreeDIYWeddings.com is a web site devoted to DIY wedding crafts of all sorts! Creative wedding ideas come in all shapes, sizes and styles! AllFreeDIYWeddings.com welcomes all brides-to-be and wedding enthusiasts in search of the best wedding crafts. You'll find hundreds of free projects and ideas for weddings, bridal showers, and other wedding-related events.
Print This Post