Print This Post
Summertime…time for road trips with the family, BBQs, trips to the pool, and all of those other activities on your summer bucket list.  Every year summertime rolls around and 2 things happen (at least in our household!), 1. I always feel like I am going to have more time to craft and inevitably I don't because we are so busy with summer activities and 2. engaging in all of that summer fun starts to drain the bank account fast. 
Today I have a solution to these 2 problems, I am linking up 35 free summer printables. Printables are awesome because they give you a jumpstart on your paper crafting projects.  Just print and cut and you are ready to go so you may be able to sneak a few projects in this summer after all.  Best of all, these are all free.  That's right, free!  No coupons to clip, so sales to look out for, just click on the links and hit print and you are on your way to easy summer paper crafting.
Free Printable Art For the Home
---
Print up one (or two!) of these summer themed printables to add a touch of summer to your home decor.  Print and frame in an inexpensive or repurposed frame and you have a fun and budget friendly gift giving idea.
Summertime Chalkboard Printable
Summer Sunshine Striped Printable
Live In The Sunshine Printable
Summer Chalkboard Quote Printable
Free Printables For The Paper Crafter
---
I know I am not the only one behind on my summer memory keeping.  These printables will make quick work of getting caught up, print and add to pocket pages or traditional layouts that capture your summer memories.
Summer Journaling and Filler Cards
Free Printable Party Decor
---
No need to run to the store for decorations for your next get together.  These printables are perfect for all of your summer entertaining.  From invitations to photo booth props, your party is covered from start to finish.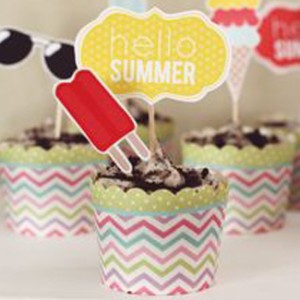 Free Printable Projects For Kids
---
Have your heard those dreaded words this summer yet? You know the ones, "Mom i'm bored!" Keep a few printable bingo cards in the car for road trips or implement a summer reading program when boredom strikes.
Summer Vacation I Spy Printable
---
Enter to win three pairs of Westcott Titanium Bonded Scissors
! One lucky winner will receive 3-inch, 5-inch, and 7-inch Westcott Titanium Bonded Scissors! The deadline to enter is July 19, 2015 at 11:59:59 p.m. Eastern Time.  You'll never be worried about having a sharp pair of scissors ready to start that next paper craft project.
---
What is your favorite summer tradition?
I live with my husband, 7 and 4 year old daughters, and a pug named Pixie in Crystal Lake, Illinois which is in the 'burbs NW of Chicago.
I started scrapping in 2006 and was quickly addicted!I was an avid scrapper until late summer of 2010 when we started our adoption journey, at that point I was overwhelmed with paperwork (and emotions!) and I had to put something on the back burner in my life but I knew I would eventually come back to it.
We welcomed our daughter home from China in December of 2011 and a few months later I found my groove again and pulled out all of those supplies that had been tucked away.
I started out scrapping again doing traditional layouts, but at the beginning of this year I jumped into Project Life and I love it!
When I'm not scrapping I am usually spending time with our daughters which means library time, going on walks, thrifting (they love it as much as I do!) or watching Kung Fu Panda for the millionth time.I also have an Etsy shop Panda Eight Designs where I sell scrapbooking flair that I design.
Print This Post