Do you love the color pink? Do you love hearts and flowers? When you pick out what jewelry making ideas to make next, do you choose the ones that are sweet and cute looking? Well, if you answered "yes" to all or even one of those three questions, then there is a very good chance that you are a "girly girl." We at AllFreeJewelryMaking think pink is a beautiful color, love to wear flower and heart DIY jewelry pieces, and think adorable DIY jewelry ideas are the best ones to make. That is why we have made this list of 11 glamorous and girly girl DIY jewelry projects to gush over. With any of these 11 precious and pretty projects on, you will feel more like the glamorous girl that is inside of you. Don't shy away from your feminine side; instead, learn how to make a necklace, bracelet, pair of earrings, and ring that will show your fun side. After all, girls just want to have fun with their jewelry!
Heavenly Hearts DIY Jewelry
Every girly girl has a necklace that she keeps close to her heart. With this Entwined Hearts Necklace (bracelet tutorial included!), not only will you be able to keep this special necklace close to your heart, but it resembles one too! If you are not a girl who likes to wear necklaces, then both the Dainty Wire Heart Ring and the Chain of Hearts Wire Bracelet  are a great way to show you are full of heart!
Pretty in Pearls DIY Jewelry
Pearls are classic and elegant, so they make every girl wearing them feel royal. Show your princess-side with a Pretty in Pink Lace and Pearl Bracelet and a pair of Embellished Pearl Earrings. After all, girly girls are a princess at heart.
Super Sweet & Cute Charm DIY Jewelry
Every girl, whether girly girl or tom boy, loves sweets. So, why not craft and wear some cute cupcakes and candy as jewelry pieces? After you put these Cutest Cupcake Earrings and any of these Cute Candy Charm DIY Jewelry, you will never want to take them off!
Fabulous & Fun Flower DIY Jewelry
Every girl loves to be given flowers; so, why not wear flower-inspired DIY bracelets, rings, and earrings? The Colorful Crochet Flower Bracelet and the Stunning Crystal Isis Bracelet will make your wrists look fabulously fashionable, while the 5-Minute Cluster Earrings and the Radiant Rose Ring are purely pink and simply elegant DIY jewelry pieces.
 Why do you think you are a Girly Girl?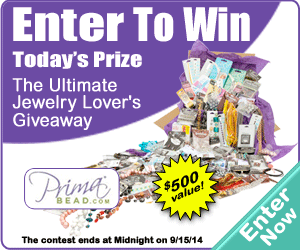 Looking for a fabulous set of jewelry making supplies to make new DIY jewelry projects? Then you should enter to win The Ultimate Jewelry Lover's Giveaway! Enter to win a Beader's Paradise Box from Prima Bead. The deadline to enter is September 15, 2014, at 11:59:59 p.m. Eastern Time. After you enter, be sure to check out our latest free eBook, 13 Free Jewelry Patterns from Prima Bead for awesome jewelry project ideas!
Latest posts by AllFreeJewelryMaking
(see all)