The Academy Awards are this Sunday, and although I haven't seen all of the Best Picture nominees, I'll be tuning in to get a glimpse of the fashion and frivolity this occasion brings. I'm not sure who will take home the biggest honors of the night, but I bet that many stars will wear designs inspired by decades past. The 1920s marked the beginning of the Golden Age of Hollywood, so it's no surprise that vintage inspired looks are popular on the red carpet, and the trend of the moment is fringe. You may not be a movie star, but as you watch the stars give their acceptance speeches, you can wrap yourself in the 1920s glamor of a crochet afghan.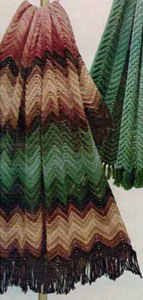 Chevron was as popular in the 1920s as it is now. Show the world your inner flapper with the Crocheted Zig Zag Afghan. You can use variegated yarn or alternate colors of yarn to create a gradient within this Art Deco throw. Or you can boost your color confidence by using different shades of the same color, as is the case of the Amber Mirage Afghan. Either way, you'll cuddle up in style.
CHRISTMAS BONUS: Angel Fringe Doll – An easy angel craft, this heavenly homemade Christmas decoration has a classic look that won't go unnoticed. This fanciful angel would also make a charming Christmas gift.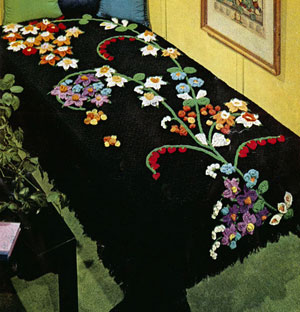 The 1920s brought on a renewed interest in Eastern culture, and Asian-inspired looks featuring peaceful floral motifs and delicate patterns are on the rise again. Bring some of Eastern elegance into your home with the Vintage Fan Afghan or the Japanese Lily Afghan. They both feature tranquil shades of blue, intricate stitching, and fringe.
CHRISTMAS BONUS: Glittery Fringe Flower Ornament – This felt craft only requires a few steps bring a burst of sparkle to your Christmas tree. You can also use this scrap-busting craft as a gift topper.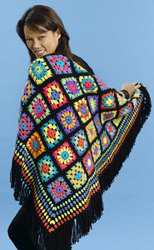 Architecture in the Roaring 20s was breathtakingly ornate, and nothing sets off gilded furnishings better than a pane of stained glass. The Bright Granny Squares Throw and the Stained Glass Window Afghan look like they belong in a church, but you can crochet yourself a rainbow that will look pretty and keep you warm. The generous fringe borders on these afghans add a playful touch to a pair of seriously spectacular blankets.
CHRISTMAS BONUS: Winter Wonderland Watercolor – This kid-friendly craft is an easy and inexpensive excuse to gather the family together.
Who is your favorite Golden Age star?
Latest posts by AllFreeChristmasCrafts
(see all)