Fantastic Beasts is right around the corner, so all of you Harry Potter fanatics are at an all time high! To bring you all above the casual muggles that partake in the Harry Potter series, I have put together this collection of truly magical jewelry pieces. You know how pop culture DIY jewelry projects are basically the best of all time! As an extra nerd out moment I even decided to break up different DIY jewelry projects into sections that coordinate to each book. I know it was a true wizarding moment.
However, for these seriously awesome Harry Potter jewelry designs you do not need any wands or magical potions. All you need is a few jewelry supplies, a passion for all things Harry Potter, a little bit of creativity, and well honestly you really just need to be obsessed with all things Harry Potter related. The best part of this is that it is totally okay if you are a muggle and looking to make these handmade jewelry pieces! Just check out the different projects below! Trust me you will not be disappointed.
 Harry Potter DIY Jewelry That You Will Not Be Able To Resist
Harry Potter and the Sorcerer's Stone:
Strap in ladies and gentlemen because these handmade jewelry pieces are what you would consider…classic. That is right we have an assortment of a few DIY rings and pendants that embody the magical amazingness of the wizarding world.
Golden Snitch Wire Ring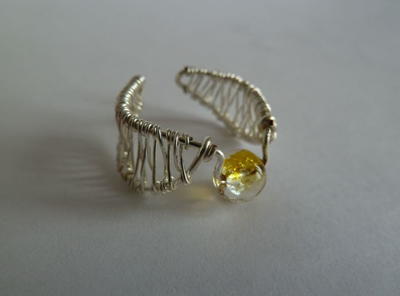 Who could ever forget how amazing Harry was at catching that quick Golden Snitch. This Golden Snitch Wire Ring is the perfect token to reminisce in these great memories.
Hogwarts Houses Wire Pendants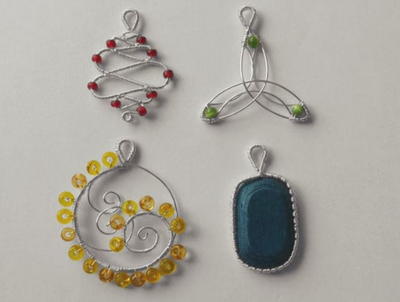 You can't forget all the drama about learning about the different houses at Hogwarts in the first book either. Everyone had a place and these Hogwarts Houses wire Pendants can help you to best represent where you would be!
Midnight Rose Coil and Crystal Wrapped Pendant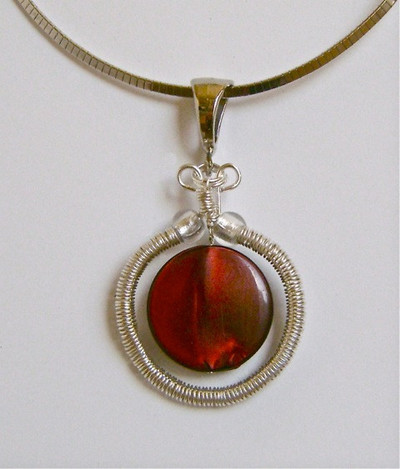 The first book of Harry Potter wouldn't have been anything without the Sorcerer's stone! That's why we have created this beautiful DIY necklace to incorporate the striking color and amazing aspects of the Sorcerer's Stone.
Harry Potter and the Chamber of Secrets
Moving into the second book where Harry is more comfortable with school now, oh and let's not forget about the PETRIFIED STUDENTS AND GIANT SNAKE. That's what I call a stressful school year.
Whomping Willow Necklace Pendant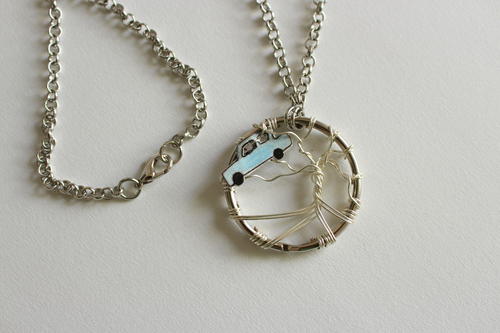 Yeah it was a really great start to Harry's school year by driving into a tree that essentially tried to kill them. This Whomping Willow Necklace Pendant can help you remember that amazing death defying moment!
Hermione's Potion Necklaces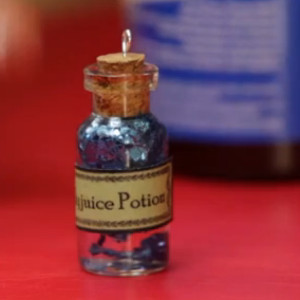 Hermione's Polyjuice Potion was a pretty important role for Harry, Ron, and Hermione in this book. That is why we have provided you with Hermione's Potion Necklaces.
Enchanting Horcrux Necklace Pendant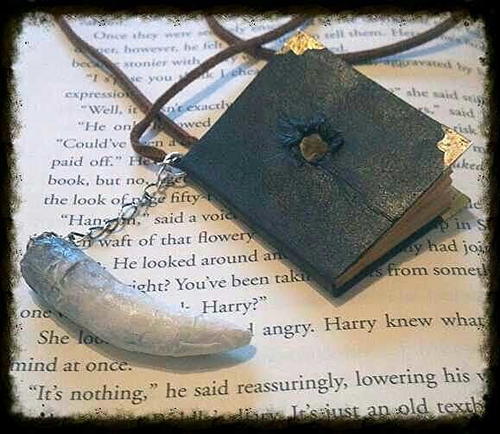 Who can forget Harry slaying that Basilisk and saving the love of his life? Well, here is a Horcrux necklace pendant so you never forget it.
Harry Potter and the Prisoner of Azkiban
Moving right on into book three there are adorable hipogriff, a very mysterious Sirius Black, and the ability to transport through time? You have to check out these DIY jewelry projects that represent this book.
Whimsical Wire Wings Ear Cuff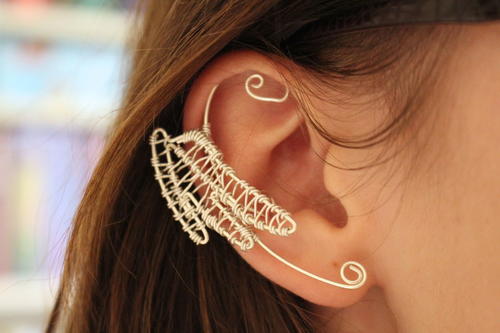 Don't even pretend like you're not dying to have an ear cuff to represent your favorite, Malfoy slaying, hippogriph! Well, here is a wonderful wire ear cuff just for this purpose!
Time Turner Pendant DIY Necklace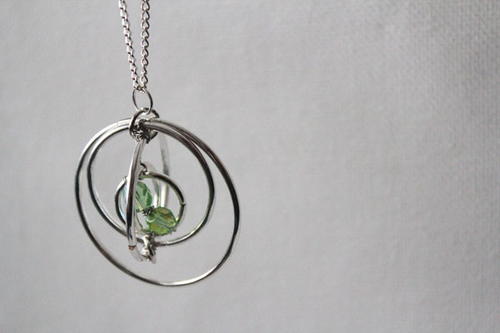 So this is probably the most iconic piece from the third Harry Potter book, so we weren't just going to not include this Time Turner Pendant Necklace!
Harry Potter and the Goblet of Fire
The Goblet of Fire was definitely a more intense book than the rest. This really got the series in motion for the rise of Voldemort, so here are a few DIY jewelry pieces to help represent that.
Mystical Dragon Wire Wing Ear Cuff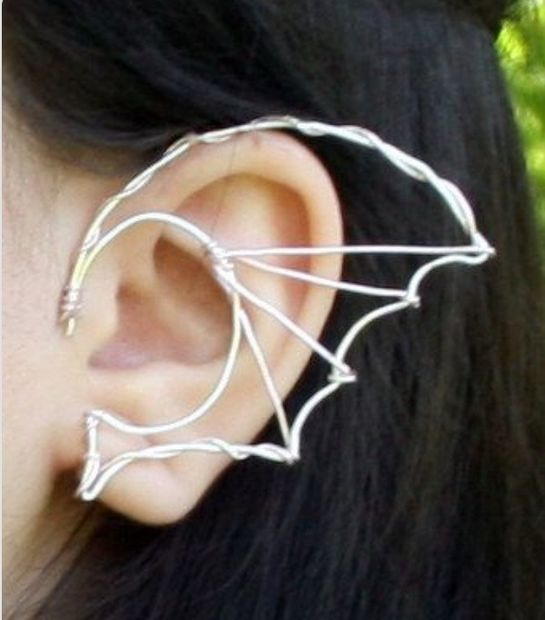 It was pretty awesome when Harry totally beat that Hungarian Horntail and got it's egg right? Well, here is a little ear cuff to help you represent your Harry Potter spirit!
Striking Lighting Bolt Necklace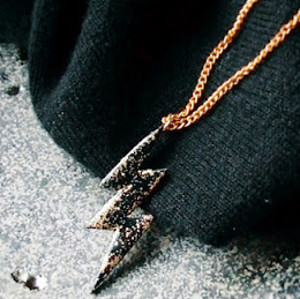 Another very iconic moment of this book was when Voldemort came back and was able to touch Harry again. To represent this, here is this lighting bolt necklace for you to rock your outfits with!
Harry Potter and the Order of the Phoenix
Dwindling down here are a couple of DIY jewelry projects that represent the struggle and fight that Harry was experiencing as he built Dumbledoor's Army and dealt with the dreaded Umbridge.
Electrifying Harry Potter Inspired Ring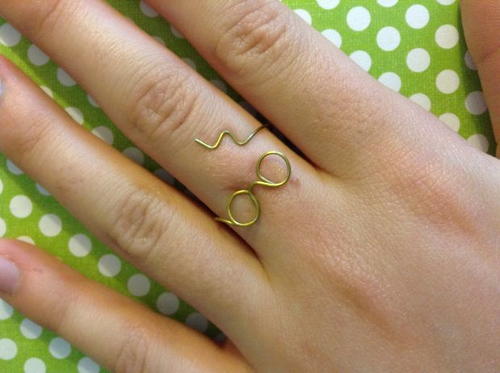 Harry really needed to stay true to himself during this book. In order to emphasize that we provided this super cute Harry Potter wire ring!
Fireball Drop Earrings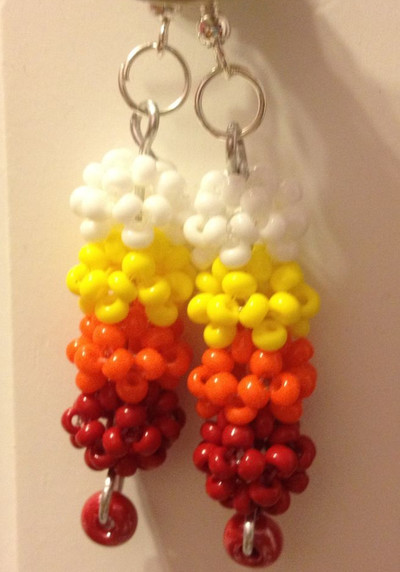 Since this book is all about the Order of the Phoenix we thought it was only right to pay Fawks a tribute with these Fireball Drop Earrings.
 Harry Potter and the Half-Blood Prince
Who can forget Harry's horrible struggle with Voldemort trying to creep into his thoughts (insert sad emoji). I did pull together a DIY charm project that I thought you would enjoy though!
Beaded Potion Bottle Bracelet Charms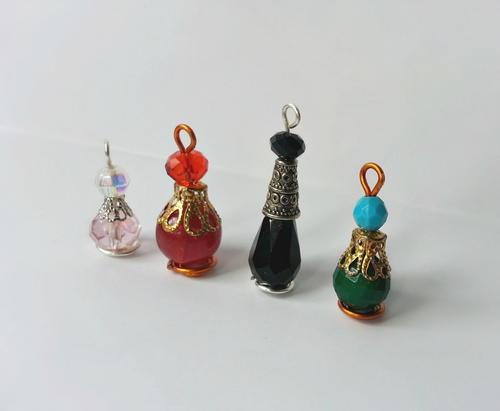 Snape was a huge character in this book, and we learned a lot about him. So to pay tribute to Severus Snape we have these beaded potion bottle charms!
Harry Potter and the Deathly Hallows
Wrapping everything up with this amazing DIY tutorial for you. The Deathly Hallows really pulled everything together, and similarly I am hoping this final jewelry product can pull together your Harry Potter obsession!
Deathly Hallows DIY Earrings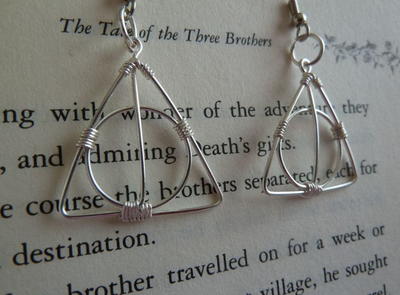 These Deathly Hallow DIY Earrings are pretty self explanatory. Do you really need me to say more?
What was your favorite Harry Potter jewelry piece?
Latest posts by AllFreeJewelryMaking
(see all)