With homemade ugly Christmas sweaters being as popular as they are, it's unlikely you'll be able to make it through the season without being invited to at least one ugly sweater party, and everyone knows when it comes to this festive tradition, the uglier the sweaters are, the better the party is. That's why you've got to get crafting. Below, you'll find options for super inexpensive homemade ugly Christmas sweaters, two adorable ideas f

or couples' ugly Christmas sweaters, and even one that's so flashy it practically lights up!
A Few Ways to Make Your Ugly Sweater



1. Add twinkly red and green lights.
2. Utilize 3-D Materials like bows, ribbons, or bells.
3. Sew on scrap fabrics to add texture.
4. Pair up with a buddy or significant other to make an awesome couple's sweater.
5. Use funny iron-on photos of your family.
Trust us, it's absolutely impossible to do "too much" when it comes to a sweater like this, so craft unabashedly. Take these ideas exactly as they are or mix and match different accents from several in order to create the sweater that will satisfy your gnarliest Christmas sweater fantasies. It's also super fun to make ugly Christmas accessories and pull your whole outfit together. What's an ugly sweater without a big pair of tack earrings or a festive hat to top it all off with?
The moment you've been waiting for….The list!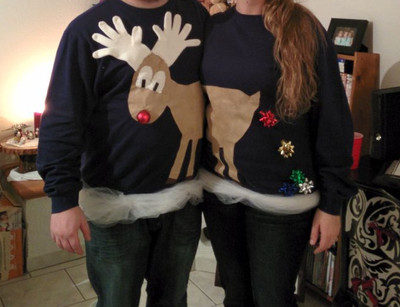 Recycled Wrapping Paper Ugly Sweater Vest
Crazy Cat Lady Ugly Christmas Sweater
Surprise Inside Tacky Christmas Sweater
DIY Ugly Christmas Sweater Set
Dollar Store Ugly Christmas Sweater
DIY Baubles and Lights Christmas Sweater
Easy Reindeer Couples Ugly Sweater
The Ultimate Tacky Christmas Sweater
What is your favorite way to accessorize your ugly sweater?
Latest posts by AllFreeHolidayCrafts
(see all)