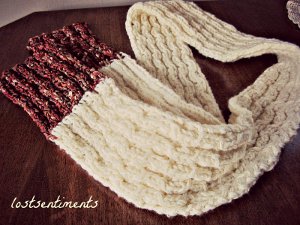 Winter is in full-swing, so the chances are you're getting bored of your same old winter gear. How about a quick wardrobe refresh that you can make in one night? We've gathered up 19 cool scarf tutorials that will refresh that drab winter wardrobe and keep you and the kids cozy. Did we mention that these projects only take one night to complete?!
These are perfect projects to create while the kids are doing their homework or while you're waiting for dinner to finish cooking. Some scarves are great for bundling up and others are great for adding a fashionable touch to your outfit.
We also have quite a few scarves for the kids to create on their own. This would make a great after-school alternative to watching TV – especially when it's too cold to go outside and play. These simple projects will create feelings of satisfaction and warmth for everyone.
You only have until bedtime, so on your mark… get set… GO!
How to Make Scarves for Chilly Weather
It is important to remember that your clothes should keep you warm, comfortable, and healthy in cool climates. These scarves are just what you need to stay warm and not get sick during flu and cold season. In just one night, you will have a cozy, handmade accessory that you can wear for all your outdoor activities.
How to Make Easy Scarves for Fashion
Fashion scarves are super popular right now, which means it's hard to find one that is truly one-of-a-kind. With these fashion scarf tutorials, however, you can make a statement by making your own scarf. These pretty scarves can be created with any fall colors and patterns that you can dream up. Get ready for the easiest scarves you've ever made.
9.  Really Pretty Ruffled Shirt Scarf
10.  Refashioned Green Tee Scarf
11.  Shamrock Scarf
Making a Scarf with the Kids
Don't leave the little ones out! These scarf patterns make it easy for the kids to make their very own scarf to wear to school. Your children will love these fun ideas and simple tutorials.
12.  Finger Knitting Braided Scarf
What is your record time for the fastest scarf? COMMENT BELOW!
Latest posts by FaveCrafts
(see all)