Print This Post
As someone who lives somewhere where winter lasts entirely too long, one of the first signs of spring that I look forward to every year is hearing the singing and chirping of birds in our yard.  Their happy song lets me know that warmer temperatures have (finally!) returned.  One of the things my daughter and I like to do this time of year is search the yard for bird nests filled with eggs.  We have been patiently watching a mother cardinal tending to her eggs and today her eggs hatched and her nest is now filled with little babies!
Just as birds in our yard bring a smile to my face, birds in paper crafting make me equally as happy! They add a fun, whimsical touch to your projects.  Birds have been a popular motif in all forms of crafting for a while.  When I first started scrapbooking 10 years ago, you could find birds everywhere in paper crafting tutorials, on stamps, embellishments and ribbon…you name it, you could find it with a bird on it and the trend continues today.  Birds as a theme in crafting became so popular the concept it even made it's way into the popular Portlandia Put a Bird On It episode (if you aren't familiar with it, look it up, you won't be disappointed!)
If your next paper crafting project needs a bird on it, check out these 20 fun and easy bird inspired tutorials.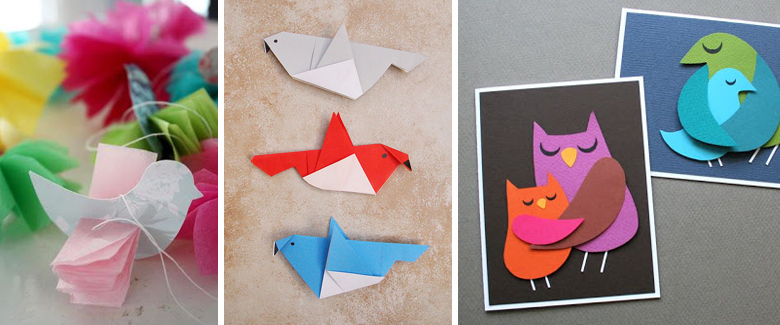 Origami Paper Crafts: Birds
---
Using a variety of papers in your stash, you can create a flock of birds as your next project.  These origami tutorials will teach you how to make a paper bird with ease.
Origami Dove
Simple Origami Birds
Origami Hummingbird
Paper Birds for Coloring
Origami Flapping Bird
Handmade Card Ideas: Bird Calls
---
Add a "tweet" touch to the next handmade greeting card you create by adding a bird to it.
Mama Bird Card
Bird Paper Quilling Pattern
Cute Cuckoo Bird Paper Craft
Birds of a Feather Card
Flock of Birds Birthday Card
How to Make a Paper Bird
---
Birds of a feather craft together using these tutorials for assorted paper birds
Book Page Bird Ornament
Scrappy Sparrows
Paper Bird Mobile
Pretty Paper Birds–this tutorial is in Swedish but is easy to follow and too cute not to share!
Paper Bird Mobile
Paper Crafts for Kids
---
A little birdie told me that kids will love creating bird projects of their own using one (or 2) of these tutorials.
Rocking Round Robin
Little Birdie Finger Puppet
Push Pigeon Toy
Oscillating Bird Toy
Paper Bird Mask
Editor's Note: For even more free paper craft tutorial inspiration, be sure to check out our Pinterest page.  We are always finding great new ideas and inspiration for you!  Be sure to click the follow button to keep up with all the exciting things we find.
Visit AllFreePaperCrafts's profile on Pinterest.
What is your favorite bird?
I live with my husband, 7 and 4 year old daughters, and a pug named Pixie in Crystal Lake, Illinois which is in the 'burbs NW of Chicago.
I started scrapping in 2006 and was quickly addicted!I was an avid scrapper until late summer of 2010 when we started our adoption journey, at that point I was overwhelmed with paperwork (and emotions!) and I had to put something on the back burner in my life but I knew I would eventually come back to it.
We welcomed our daughter home from China in December of 2011 and a few months later I found my groove again and pulled out all of those supplies that had been tucked away.
I started out scrapping again doing traditional layouts, but at the beginning of this year I jumped into Project Life and I love it!
When I'm not scrapping I am usually spending time with our daughters which means library time, going on walks, thrifting (they love it as much as I do!) or watching Kung Fu Panda for the millionth time.I also have an Etsy shop Panda Eight Designs where I sell scrapbooking flair that I design.
Latest posts by Martha Bonneau (see all)
Print This Post