Close your eyes. Picture your dream wedding: the theme, your dress, your soon-to-be spouse. Now picture your dream wedding lit up with soft, dreamy twinkle lights, or a cozy rustic Mason jar chandelier. Yes, you guessed it: your dream wedding can go from dreamy to magical with only a few strategically placed DIY lighting projects! The best part is that you can make all the wedding lighting options you will ever need with our handy collection, 33 Ways to Create Magical Wedding Lighting. From fairytale to quirky and fun, we have tons of wedding lighting options for every theme and every bride. You will be amazed at how easy it is to make your own mood lighting, from flickering candles on tables to suspended twinkle lights for subtle shimmer. All you have to do is check out our marvelous collection page to get started. We even included a bonus section for the brides looking for the boldest and the brightest lights to illuminate their nuptials. Scroll through for a sneak preview and then check out the collection page to continue browsing until you find the perfect DIY wedding lighting you've been looking for to light up your wedding dreams with love.
Incandescent Candle Crafts
Here you'll find a selection of flickering, dreamy mood lighting for the tables in your reception venue. You won't believe what only a few candles here and there will do for your lighting. Your guests will love to eat, drink, and chat in the glow of these lovely flames. Check out the collection for even more options.
How to Make a Charming Chandelier
Did you know you can make a chandelier? Now you do! From Mason jars to flowers, there are so many different ways to create the wedding chandelier you have been looking for. Plus, you get to keep it as a decoration in your new home after the wedding. Check out these teaser crafts and then click through to the page for even more charming chandelier options.
DIY Suspended String Lights
Suspended lights are everywhere right now, but don't be afraid to jump on the bandwagon! Trust me; they're popular for a reason. With only a few strands of twinkle lights, you can create the most unique, soft lighting that adds romantic ambiance to your wedding night. No two weddings use suspended lighting the same way, so don't be afraid to be creative and add your own style to these DIY wedding lighting crafts.
Lovely DIY Wedding Lanterns
Lanterns are the most versatile of all wedding lighting options because you can suspend them high above the crowd, hang them low in clusters, or set them on tables. Use this versatility to your benefit when you create these lanterns to give your wedding reception a one-of-a-kind feel. Trust us; your guests will definitely remember and appreciate your creative efforts.
BONUS! Electrify the Night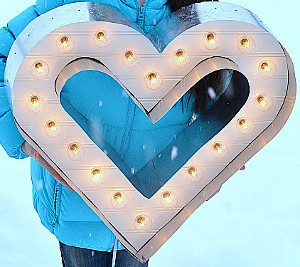 Check out the bonus feature on our collection page for even more electrifying ways to light up your love!
What kind of lighting does your dream wedding have?
Latest posts by AllFreeDIYWeddings
(see all)