Be the best-dressed elf at every holiday gathering with these amazing homemade earrings adorning your ears. Count down the days until Christmas, or create a special pair of earrings for each day of the month of December with this collection of holiday earrings. These festive Christmas earrings are like little ornaments for your ears, so after you decorate ol' Tannenbaum, you can work on decorating yourself.
In Make Ornaments for Your Ears! 31 DIY Christmas Earrings, you will find festive, fashionable, and fun earrings for any occasion. AllFreeJewelryMaking has created this collection of DIY earrings for every occasion so that you will always be able to find the right pair of earrings to match the seasonal occasion. There are so many options in this collection that you can make DIY Christmas gifts for all of your friends and family. From too-cute mini Christmas trees to sparkling angelic designs, you are sure to find a stylish set of holiday earrings.
Christmas Tree Earring Patterns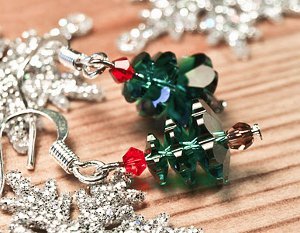 You'll be rockin' around the Christmas tree with these adorable Christmas motif earrings. These Cute Christmas Tree Earrings are sure to be a favorite pair for you to wear all season.
Candy Cane Earring Patterns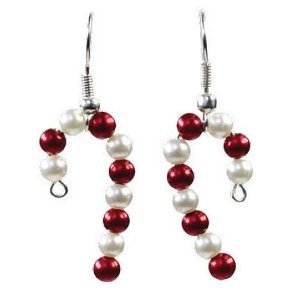 Bring the colors of Christmas into your accessories with these peppermint-inspired patterns. These Quickie Candy Cane Earrings and other candy-cane-inspired earrings are sure to be a sweet jewelry treat for the holiday season.
Christmas Decor Earring Patterns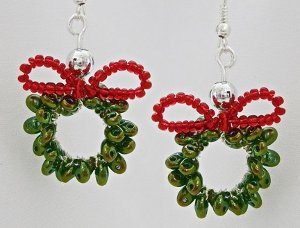 "Deck the halls with boughs of holly/ Fa la la la la, la la la la./ Tis the season to be jolly,/Fa la la la la, la la la la."  Once you are done decking the halls, deck yourself out with these festive Christmas earrings. Make these super-cute Twin Bead Christmas Wreath Earrings; they are so easy to make that you could whip them up on Christmas Eve as a last-minute gift.
Snow and Snowflake Earring Patterns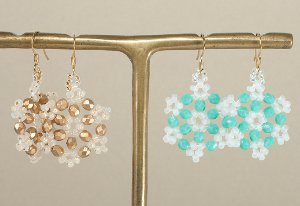 Let it snow, let it snow! You'll be singing that classic tune when you craft these stunning earrings inspired by snow and snowflakes. Create a winter wonderland with these snow and snowflake-themed earring projects like these Beautiful Beaded Snowflake Earrings.
Christmas Bells Earring Patterns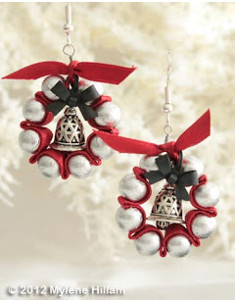 Ring-a-ling, hear them ring! Make earrings that will remind you that it will soon be Christmas day! DIY Christmas crafts don't get much more festive and elegant than these Jingle Bell Wreath Earrings. Find these and more earrings featuring holiday bells in this Christmas earring collection.
Angel and Star Earring Patterns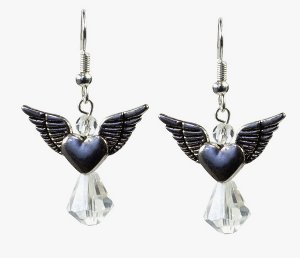 Hark! The herald angels will sing this season. Your friends and family will surely be singing your praises when you craft these adorable angelic crafts like these Angel Earrings.
What type of holiday earrings do you want to make for this Christmas season?
Latest posts by AllFreeJewelryMaking
(see all)