Print This Post
This post is brought to you by Martha Bonneau from MugsyBoo.
---
This summer we took a couple of road trips out of state as a family.  As anyone with small children knows, that means stopping at each and every rest area in each and every state along the way.  By about the 3rd time we stopped I noticed that along with all of the literature for different tourist attractions in the area (caves, zip lines, historical sites) there were also free(!) state maps available to travelers.  That's right, free paper for me to create something with!  Since everyone either uses smartphones or navigation when traveling I was kind of surprised to see them.  I thought maybe just that particular state was generous enough to give away maps, but when we stopped at the next rest area in the next state there they were again.  By the end of our trip I had maps from 4 different states just waiting to be made into something.  The first project I tackled when we got home was creating a couple of pocket style scrapbook pages for our 2014 album.  I used a punch to create 3×4" cards from one of the maps, I printed a sentiment on them and now when we look at our album I fondly remember all of those rest area stops!
Next I decided I would start looking for ways to use the maps I had collected and I am so glad I did as there are so many fun and creative ideas on how to use maps in your DIY paper crafting projects. In this post I am sharing 15 of my favorite projects using maps.  From fun handmade envelopes to creative cards there is a whole world of inspiration here.
Map Out Your Home Décor
There are so many decorating ideas beyond simply hanging a map on the wall!
Scrap Your Map
If it's paper it can be scrapped!  Find ideas for cards and albums using maps below.
Mapping the Journey Handmade Card
Ornaments and Gift Wrap Ideas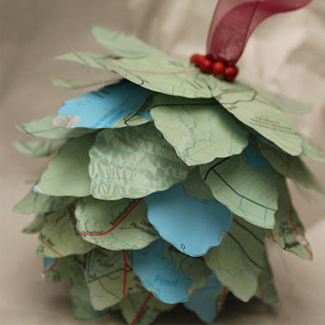 How to make wrap with a map…and other holiday ideas.
Recycled Map Christmas Ornament
I know I said 15 ideas, but I am adding one more because it is just too awesome not to share.  Check out this Folded Map Dress (scroll down for tutorial)  How cute would this be in a little girl's room . . . or my craft room lol!
Where was the last place you traveled?
I live with my husband, 7 and 4 year old daughters, and a pug named Pixie in Crystal Lake, Illinois which is in the 'burbs NW of Chicago.
I started scrapping in 2006 and was quickly addicted!I was an avid scrapper until late summer of 2010 when we started our adoption journey, at that point I was overwhelmed with paperwork (and emotions!) and I had to put something on the back burner in my life but I knew I would eventually come back to it.
We welcomed our daughter home from China in December of 2011 and a few months later I found my groove again and pulled out all of those supplies that had been tucked away.
I started out scrapping again doing traditional layouts, but at the beginning of this year I jumped into Project Life and I love it!
When I'm not scrapping I am usually spending time with our daughters which means library time, going on walks, thrifting (they love it as much as I do!) or watching Kung Fu Panda for the millionth time.I also have an Etsy shop Panda Eight Designs where I sell scrapbooking flair that I design.
Print This Post