Print This Post
Years ago in college I took a printmaking class and one of the techniques we learned was how to create marbled paper. I loved the end result, but the method that we were taught was complicated and used materials that I did not readily have on hand. As much as I thought it would be a technique I would use again, I shelved the idea for years. Fast forward several years and marbled paper is now showing up as a DIY technique that can easily be created at home. At first I was skeptical as I assumed that without the expensive, complicated supplies you wouldn't be able to achieve the same high-end results, but these tutorials prove otherwise! Who knew that with shaving cream and ink you could create beautifully marbled paper that can then be used for card making, scrapbooking, gift-wrap, and other DIY paper crafting projects.
These techniques for creating marbled paper use many household and crafting items that you already have on hand. Warning: marbling paper is addictive and once you start, no paper in your craft stash is safe! These tutorials range from very simple and kid-friendly to a little more in-depth but still easy to achieve at home. There are even ideas on projects to create with the marbled paper you have created, and trust me, you will be creating a lot of it!
How To Marble With Shaving Cream & Ink – Substitute food coloring for ink and this becomes an easy, kid friendly tutorial.
Marbling With Nail Polish – Only 2 supplies are needed to complete this project…water and nail polish, this really couldn't be easier!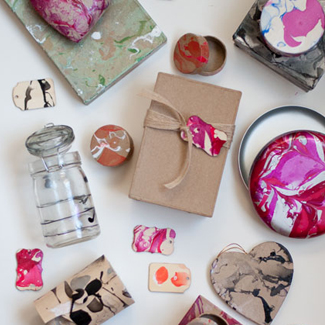 DIY Paper Marbling – This is a fun DIY printmaking inspired tutorial.
Homemade Marbled Paper – Another fun tutorial that uses shaving cream and paint
Kid Friendly Marbleized Paper – Look no further than your kitchen for supplies needed to create this project.
Swirly Twirly Marbled Envelopes – Learn how to create beautifully marbled envelopes in under an hour.
DIY Marbled Paper Artwork – A quick, high impact home décor project made from all of the paper you have been marbling.
Marbling With Spray Paint – Create marbling with a metallic effect by using spray paint.
DIY Marbled Business Cards – Use the Japanese suminagashi technique to create one of a kind marbled business cards to promote your business.
Have you ever created marbled paper?
---
Follow AllFreePaperCrafts's board Paper Marbling on Pinterest.


I live with my husband, 7 and 4 year old daughters, and a pug named Pixie in Crystal Lake, Illinois which is in the 'burbs NW of Chicago.
I started scrapping in 2006 and was quickly addicted!I was an avid scrapper until late summer of 2010 when we started our adoption journey, at that point I was overwhelmed with paperwork (and emotions!) and I had to put something on the back burner in my life but I knew I would eventually come back to it.
We welcomed our daughter home from China in December of 2011 and a few months later I found my groove again and pulled out all of those supplies that had been tucked away.
I started out scrapping again doing traditional layouts, but at the beginning of this year I jumped into Project Life and I love it!
When I'm not scrapping I am usually spending time with our daughters which means library time, going on walks, thrifting (they love it as much as I do!) or watching Kung Fu Panda for the millionth time.I also have an Etsy shop Panda Eight Designs where I sell scrapbooking flair that I design.
Print This Post