If you've never explored the mystical land of paper quilling, you're in for a treat! This is a beautiful paper craft that produces truly stunning results. Every time I see a finished project with quilled elements, I'm dazzled by them. I might even go so far as to say that paper quilling is my FAVORITE form of paper crafting!
JUST LOOK AT IT:
The beautiful swirls lend themselves to feminine projects, and with Mother's Day right around the corner, we thought you might like to make some Mother's Day crafts with paper quilling elements! Quilling is a trend for Mother's Day this year, and you will love the gorgeous projects we have listed below.
How to Quill Paper
The first step is learning how to quill paper. Check out our Basic Materials and Technique article:
In this article, you'll learn what materials you need to get started and the basic technique for creating the rolled shapes. The article is very friendly towards beginner paper quillers. You'll have all the materials on hand that you need: paper (like junk mail even!), scissors or a paper cutter, a toothpick or similar tool for rolling, and any white glue.
The article also includes several great tips for paper quilling. For example, one quick tip from this article is to use a paper shredder to make your strips of quilling paper!
For more information about basic quilling techniques, visit our friends at AllFreePaperCrafts.com.
Paper Quilling Ideas for Mother's Day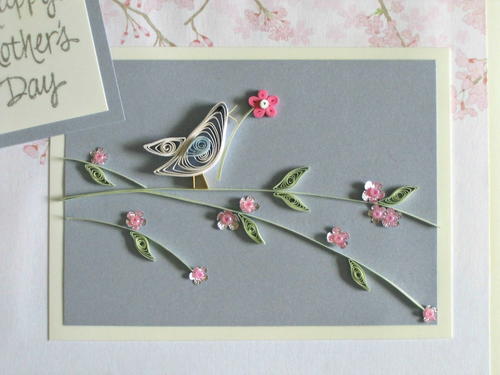 Tell us your thoughts about paper quilling in the comments!
Latest posts by FaveCrafts
(see all)