Print This Post
For a few months now, I have noticed a tropical trend popping up in my social media feeds and on blogs of paper crafters and designers I follow.  Pineapples…yes pineapples! The yummy, yellow fruit is having it's moment and the summer of 2015 is sure to be remembered as the summer of the pineapple.  As so often happens, this trend started in fashion and home decor and now we are seeing it trending everywhere in the crafting world as well.  From scrapbook layouts  to handmade cards , pineapples are popping up everywhere in DIY paper crafting projects.  Are you a stamper?  Why not create your own pineapple stamp.  Looking for a fun, summer project for your kids?  These pineapple toilet roll glasses are the cutest. (seriously…so cute!) Pineapples are just as at home on the most graphic of scrapbook layouts as they are hanging out at a party.
Have I mentioned pineapple so many times now that you are hungry lol! If so, go make yourself a Homemade Disney Dole Whip and enjoy it while checking out this round up of pineapple inspired paper projects.
Thanks a Bunch Card
This simple card features lot of layered, stamped pineapples.
Pineapple Washi Tape Print
Raise your hand if you have a gazillion rolls of washi tape like I do!  This fun project will give you an excuse to dive into your washi stash.
Fruity Paper Pineapple Pom Poms
How cute would these be as party decorations?!
Pineapple Piñata
Looking for more pineapple party decor, look no further than this festive piñata.
Pineapple Favor Bags
So simple, so fun, so festive!
Origami Pineapple Straws
Try out your paper folding skills on these festive straw toppers.
Geometric Pineapple Art
This geometric artwork can be created large enough to frame, or can be scaled down to use on cards or other paper crafting projects.
Watercolor Pineapple Tutorial
Use crayon resist and water colors to create this tropical artwork.
Free Paper Printables: Pineapples
---
An easy way to jump on board the pineapple trend is to download and print some of these free(!) pineapple inspired printables.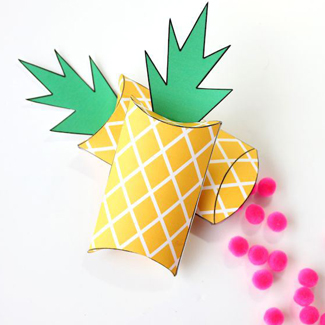 Printable Pineapple Gift Boxes
Digital Pineapple Scrapbook Paper
Printable Pineapple Wrapping Paper
How about pineapple on your pizza….yes or no?
I live with my husband, 7 and 4 year old daughters, and a pug named Pixie in Crystal Lake, Illinois which is in the 'burbs NW of Chicago.
I started scrapping in 2006 and was quickly addicted!I was an avid scrapper until late summer of 2010 when we started our adoption journey, at that point I was overwhelmed with paperwork (and emotions!) and I had to put something on the back burner in my life but I knew I would eventually come back to it.
We welcomed our daughter home from China in December of 2011 and a few months later I found my groove again and pulled out all of those supplies that had been tucked away.
I started out scrapping again doing traditional layouts, but at the beginning of this year I jumped into Project Life and I love it!
When I'm not scrapping I am usually spending time with our daughters which means library time, going on walks, thrifting (they love it as much as I do!) or watching Kung Fu Panda for the millionth time.I also have an Etsy shop Panda Eight Designs where I sell scrapbooking flair that I design.
Print This Post