Making sure every detail of your Thanksgiving Day meal has been accounted for can be stressful. Yes, you've got the turkey, cranberries, stuffing and pumpkin pie taken care of, but what about dessert and pretty table decorations? During the hustle and bustle of dinner, when everyone is helping one another to set the table and pass the potato casserole, there isn't must time to catch up. It's before and after the meal that we really get a chance to see what our relatives from other states have been up to all year. It's important that the atmosphere is right.  This post is chock-full of Thanksgiving dessert ideas, easy, DIY Thanksgiving centerpieces and other super cute homemade Thanksgiving decorations.

Thanksgiving Table Ideas

If you're going to cook a beautiful meal, you might as well serve it on a beautiful table. Check out our collections of lovely-but-budget-friendly DIY table decorations, and use these adorable napkin rings, place cards, and even plates to delight your guests before they even have a chance to sit down.
Thanksgiving Centerpiece Ideas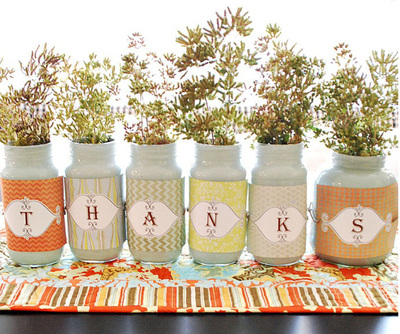 You've got the napkins folded like little turkeys, your napkin rings have been garnished with autumnal colors and each place card has been placed precisely where it belongs…but something is missing. You need a killer centerpiece  to bring it all home. These homemade centerpiece ideas will impress guests and set a cozy, familial atmosphere just perfectly.
Thanksgiving Dessert Ideas
Pumpkin pie is amazing–no one is arguing against it–but perhaps your guests would be interested in a little variety this year. Whether you want to provide mouthfuls of tasty Thanksgiving goodness or just a few, memorable bites, you can use these delicious off the beaten path Thanksgiving desserts to tickle your guests' taste buds.
What's your favorite way dress up your table? Do you prefer bold, statement-making centerpieces or napkin rings and place cards with delicate details?
Latest posts by AllFreeHolidayCrafts
(see all)