Rustic jewelry is not only a gorgeous jewelry trend; but, it is also perfect for expanding your DIY fall jewelry collection. This fall be sure to be on top your country-style jewelry game, so that you can look your best for the entire season. Plus, I love rustic jewelry because I feel like I can wear it basically all year round. I think that the country jewelry making style is super gorgeous for summer as well as the chillier seasons!
Plus, rustic jewelry can be interpreted in so many different ways that it really lets you be creative. For example, this jewelry making series is going to show you all the different materials you can use to make some stunning rustic jewelry. I know it's very common to put leather and lace together for rustic jewelry, and don't you worry that will come later, but I actually wanted to start with showing you some super gorgeous feather jewelry that fits in the country, or rustic, DIY jewelry category.
While feather jewelry does waltz a very fine line between bohemian jewelry and rustic jewelry, these handmade jewelry patterns will show you how rustic you can make your feather jewelry! Plus, if you really love the look of these feather jewelry patterns you can totally check out tons of other versatile feather jewelry tutorials that can show you different ways to rock the feathered look!
Coinciding with this (insert link!) 2016 Fall Jewelry Trends blog post, this rustic jewelry series, and the projects within them, will keep you looking fresh and trendy this fall!
7 Rustic DIY Jewelry Patterns For Fall: Part One
Birds Of A Feather
Starting with your head and working our way down, there are some truly gorgeous feather accessories that will not only give you that rustic jewelry look, but will also keep you looking like a Rustic Goddess through the entire fall season!
Gilded Feather Headband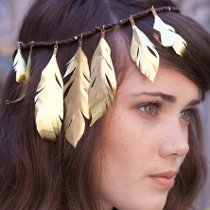 It's hard to beat this gorgeous Gilded Feather Headband; so, I decided to start off strong and show you beautiful DIY hair accessory that will literally make you look like you are dripping in gold. The casual rustic style and golden feathers will definitely leaving you feeling like a crowned Queen.
Country Leather and Feather Ponytail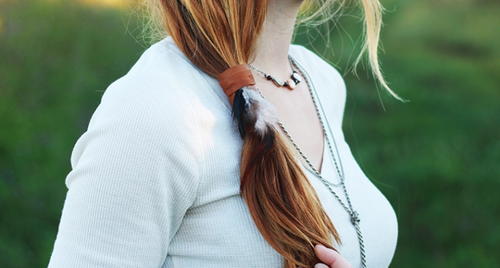 Nothing says country beauty like this super gorgeous feather and leather ponytail wrap. Not only are you decorating your hair in a gorgeous way, but this Bohemian Leather DIY Hair Accessory also acts for a great hair accessory to switch up your fall hair routine!
Leather Feather Earrings
Moving a little farther down we are going to focus on how to adorn your ears now. Since earrings ultimately frame you face, it is undeniably important to be on your top earring game at all times! This gorgeous leather feather earring pattern, is the perfect combination of elegance and country, which really is what rustic style jewelry is all about!
Feather Dangle Earrings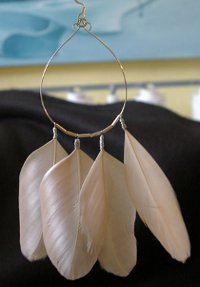 Getting back into all feather without the leather, these feather dangle earrings are super gorgeous and add a stunning rustic aspect to any outfit you pair them with. These DIY earrings are definitely more on the actual feather side, which makes them that much better to wear!
Denim-Wrapped DIY Necklace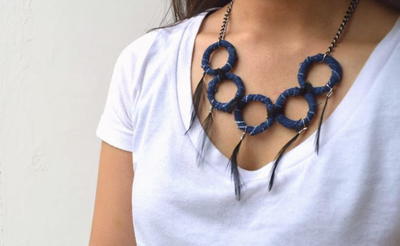 You can't really make a rustic jewelry post without some kind of denim jewelry right? This Denim-Wrapped DIY Necklace is a fantastic everyday jewelry piece that truly gives an authentic country chic vibe to your outfit! There's really not much more that needs to be said.
Golden Clay Charm Necklace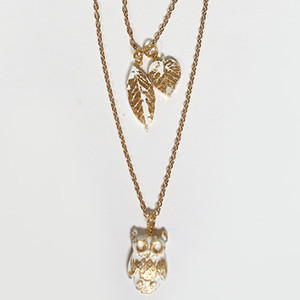 This DIY jewelry project does require a bit of your imagination. While the clay pendants are leaves on the top, they can easily be swapped out for a feather design for a more rustic look. However, the flaking gold paint affect on this Golden Clay Charm Necklace adds another great rustic aspect to this gorgeous handmade necklace!
Feather Chain DIY Rings
Moving just a bit farther down these DIY rings are our final rustic jewelry project that is centered around feathers. These Boho Festival Feather DIY Rings add a gorgeous rustic chic vibe to any outfit you pair them with. Plus, they are a super unique DIY jewelry project.
Be sure to stay tuned to find out all about the ways you can incorporate leather and lace into your rustic jewelry pieces! Up next will be all about working leather to make gorgeous rustic jewelry pieces. While there are tons more feather projects you can definitely get your hands on, these were my personal top picks for my interpretation of rustic jewelry pieces. Rustic jewelry is super perfect for the upcoming fall weather, and besides that, it is just gorgeous jewelry to make for your DIY collection!
What is your favorite piece of feather jewelry?
Latest posts by AllFreeJewelryMaking
(see all)