Welcome back! If you have not checked out the first post in this series that is all about how you can make some super gorgeous feather jewelry with a rustic vibe, then you should definitely head on to part one of this rustic jewelry series! However, before you head on over there let me explain to you why this series on rustic jewelry is something you need in your life!
For starters, rustic jewelry is undoubtedly a perfect jewelry trend to get into for this fall, especially since this part two series is all about leather. Seriously though, that country jewelry vibe adds such a gorgeous touch to all different kinds of fall outfits. Fall jewelry tends to revolve around deeper colors and warmer textures, which is why rustic jewelry fits in perfectly as jewelry for autumn.
Specifically, this part two of the series is going to be all about different types of leather jewelry you can make. Leather jewelry and rustic country jewelry practically go hand in hand. I mean who think so of a cowboy and doesn't automatically picture him wearing leather of some kind right? Similar to that concept, except a ton more gorgeous, are these super gorgeous leather jewelry patterns that I'm going to show you. Also, check out this collection of leather jewelry tutorials that can give you tons of other jewelry making ideas!
Also, if this is your first time working with leather jewelry, this super helpful guide on leather jewelry would be a great resource to check out before diving into any projects!
7 Rustic DIY Jewelry Patterns For Fall: Part Two
Living in Leather
Ready to rock out in some gorgeous leather pieces? For these rustic leather jewelry pieces I am going to show you a more country chic way to wear your favorite leather pieces!
Leather Feather Earrings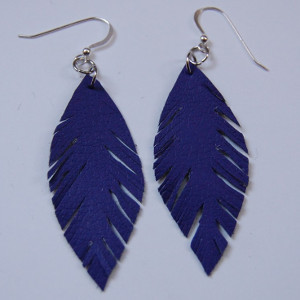 As you can see all of the three elements for this jewelry series, feather, leather, and lace, all mesh extremely well together. These super gorgeous Leather Feather Earrings will add a nice touch of color to your outfit, while keeping you looking country chic!
Western Braided Leather Choker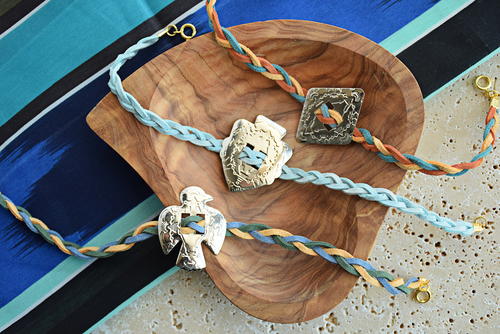 Just like in the first jewelry post I am going to be starting from the top and working my way down. Therefore, I am going bring you this super stunning leather choker pattern before we discuss all the gorgeous bracelets I have in store for you. These gorgeous Western Braided Leather Chokers definitely range more on the western side, but they are still rustic in their own way!
Charming DIY Leather Bracelet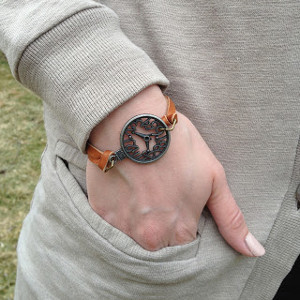 I decided to start with the more delicate bracelet out of the bunch. This Charming DIY Leather Bracelet has an extremely rustic feel with its delicate nature and super cute charm. Plus, you can swap out the charm with anything you think creates more of a rustic jewelry vibe!
Rhinestone Rebel DIY Cuff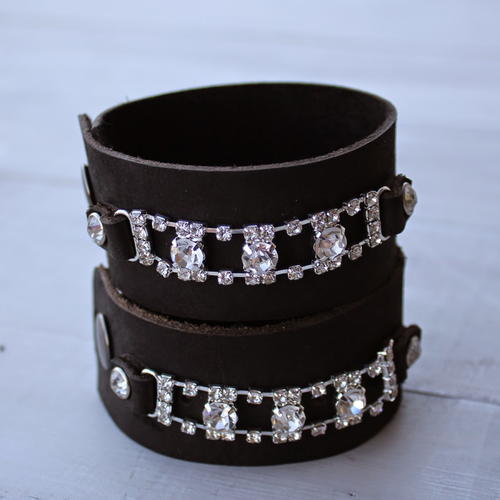 This is a crazy gorgeous piece of rustic jewelry that is perfect for wearing in all kinds of occasions. The glitzy rhinestones in this Rhinestone Rebel DIY Cuff bracelet add the perfect touch of charm to this super rustic-looking piece of jewelry. However, for an even more country-rustic vibe you could swap out the rhinestones for a strip of lace!
Upcycled Leather Cuff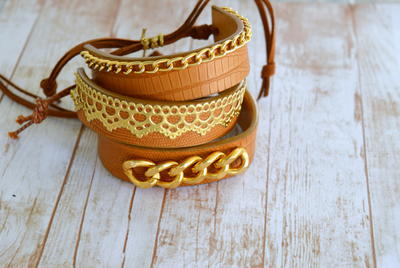 Speaking of putting leather and lace together, this Upcycled Leather Cuff is a great example of how to do just that! Not to mention these different leather bracelets are beautiful! The lighter colors make for a fresher rustic jewelry look; and, you can opt to do all leather and lace if you aren't a huge fan of the chain pattern!
Arrowhead DIY Bracelet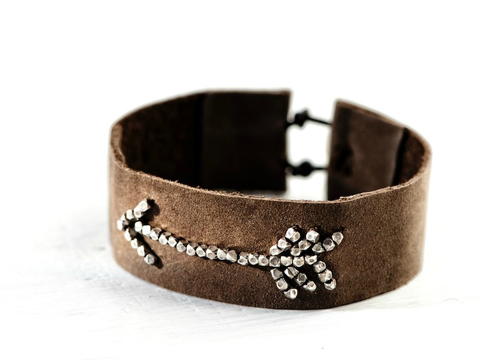 Talk about some stunning jewelry that is easy to make and hard to resist. The super cute arrowhead design for this Bohemian Arrowhead DIY Bracelet adds a unique touch to your typical rustic jewelry patterns. This is definitely a bracelet you could rock when you're trying to pull off that country chic look!
Southwestern DIY Leather Cuff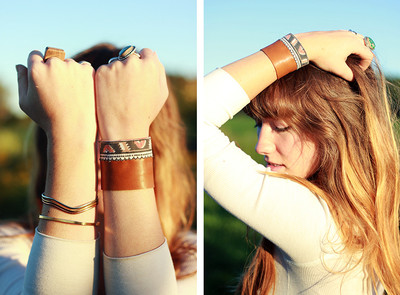 This is going to be the final bracelet before we wrap it up with leather and move on to lace for the next part of this series. I decided I would save my personal favorite for last! This Southwestern-style leather cuff bracelet is honestly one of the easiest jewelry pieces you will ever make, and it turns out undeniably stunning!
Now that we have wrapped everything up with these gorgeous leather jewelry patterns that will keep you looking rustic all fall long, be sure to stay tuned for the Lovely in Lace edition of this series. Who doesn't love some gorgeous lace jewelry pieces right?
What is your favorite leather jewelry piece?
Latest posts by AllFreeJewelryMaking
(see all)