Are you gearing up for a spook-tacular Halloween and need some Halloween costume ideas? Well, good thing you've stopped by because we've got quite the collection of amazing DIY Halloween costumes for all ages!
Whether it's a favorite movie character or a scary creature, making your own homemade Halloween costumes is so much more rewarding (and fun!) than buying them at a store. You can customize your costume to fit perfectly, and let's be honest, these DIY costumes ideas look so much better than the store bought ones. You can even get creative with the design of your costume by adding your own colors or design elements into the mix.
Whether you're making a costume for yourself or for your little one, these Halloween costume ideas are simply "boo-tiful" and are sure to stand out from the crowd. Your little ones will treasure the costume of their dreams and will have a blast wearing the costume for some trick-or-treating. These costumes are so awesome, your kids will probably want to wear them for dress up time all year long! If you're making yourself a costume, then beware. You'll be the envy of all your friends, and they'll want you to make them one as well. So, get ready to win those costume contests!
Simply Boo-tiful Halloween Costume Ideas
Homemade Halloween Costumes for Adults

DIY Vintage Princess Lolly Halloween Costume
DIY Little Red Riding Hood Costume
DIY Halloween Costumes for Kids

Prince and Princess DIY Costumes
Cinderella Costume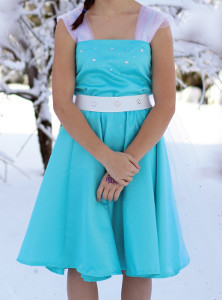 Royal and Red DIY Princess Costume
The Cutest Prince Charming Costume Ever
Halloween Costume Ideas for Babies

Little Fish Homemade Halloween Costume
Baby Hedgehog Kid's Halloween Costume
Muscle Man Vintage Infant Costume
Crazy Circus Animal Cookie Costume
Already got your costume covered, but looking for some great Halloween crafts? Check out these posts below:
Devilishly Delicious Halloween Treats You'll Love
12 Kids' Halloween Crafts for Your Haunted House
Pumpkin Pandemonium: 15 Pumpkins you Need to Make
What's your favorite Halloween candy?
Latest posts by AllFreeSewing
(see all)