Print This Post
This post is brought to you by Martha Bonneau from MugsyBoo.
---
Whenever I am out shopping, I am always on the lookout for items I can use in my paper crafting projects. Crafting chain stores are full of the basics like paper, adhesive, stamps, and all kinds of other fun and oh so tempting goodies, but don't limit yourself to the craft store: keep your eyes open at all times! When I do my weekly grocery shopping, my cart almost always (okay, always!) makes a detour through the office supply section. Pens and labels and tags . . . oh my! Shipping tags are one of the staples of my scrap stash that I always have on hand. They are readily available in office supply stores or in the office supply section of most big box stores. No, I am not shipping large items; I am using them to create layers on scrapbook layouts or to tuck journaling into my pocket page projects. If you haven't been shopping in the office supply section, these projects will have you stopping in there shortly!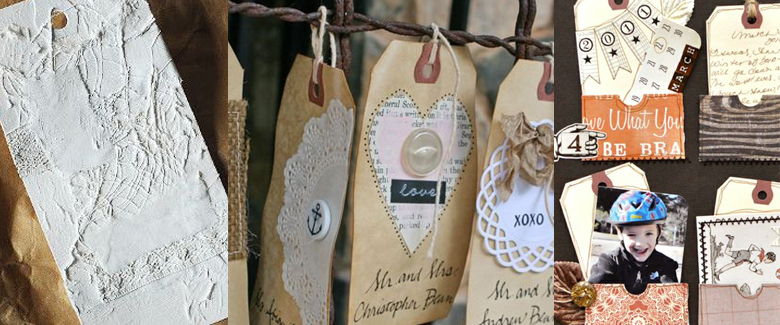 Embellished Shipping Tags
A shipping tag is the perfect clean slate on which to create your DIY project. With these projects you will learn how to make the most out of a small space. Use tags in multiples for added impact.
Seashore Altered Tags
Distressed Tags
Vintage Floral Tag
Pinwheel Birthday Gift Tags
Shipping Tag Advent Calendar
Effortless Gift Tags
Holiday Tags
Enjoy The Journey Tags
Halloween Tag
Misted & Masked Tag
Vintage Textured Gift Tag
Scrappy Tags Ideas
There are so many fun and unique ways to use shipping tags in card making and paper crafting projects. Tags are a perfect way to add journaling to a scrapbook layout and can even be made into the cutest little mini books.
Shipping Tag Mini Notebook
Christmas Card
Mini Shipping Tag Card
Pocket Page Scrapping Project
Little Cook Layout
Punch Board Tag Booklet
Shipping Tag Pocket Notebook
Journaling Tags
Mini Gift Envelope
Shipping Tag Banner
What office supply have you used on a paper crafting project?
I live with my husband, 7 and 4 year old daughters, and a pug named Pixie in Crystal Lake, Illinois which is in the 'burbs NW of Chicago.
I started scrapping in 2006 and was quickly addicted!I was an avid scrapper until late summer of 2010 when we started our adoption journey, at that point I was overwhelmed with paperwork (and emotions!) and I had to put something on the back burner in my life but I knew I would eventually come back to it.
We welcomed our daughter home from China in December of 2011 and a few months later I found my groove again and pulled out all of those supplies that had been tucked away.
I started out scrapping again doing traditional layouts, but at the beginning of this year I jumped into Project Life and I love it!
When I'm not scrapping I am usually spending time with our daughters which means library time, going on walks, thrifting (they love it as much as I do!) or watching Kung Fu Panda for the millionth time.I also have an Etsy shop Panda Eight Designs where I sell scrapbooking flair that I design.
Latest posts by Martha Bonneau (see all)
Print This Post