This post is brought to you by Brian Yarnish of Scrapkins
---
So here's the deal. It's an excitable time of year. The kids need something fun and easy to do. You don't have many art materials on hand. You want some real creative DIY time to inspire them. Grab a cardboard tube, crayons and scissors and in 5 minutes you'll create a "Tiger", together! Let's get started.
Materials You Need:
1 Cardboard toilet paper tube or a paper towel tube cut in half

Pair of scissors

Markers & crayons

School Glue & colored paper (if you want to get fancy)
Remember: Don't buy anything! This is about using what you already have and discovering the possibilities.
Instructions:
1) Make 3 cuts in the bottom of your tube about 1.5 inches long and 1 inch apart.
2) Fold up the 2 flaps you just cut. These will be the tiger's feet.
3) Cut out triangle shapes at the end of feet to form claws.
4) Turn around tube and cut off the extra piece behind the feet so your tiger will stand.
5) Cut this piece in half the long way to make 2 arms.
6) Cut a rectangle shape with angled edges from the top front of tube. This will form ears.
7) Make a cut from the top to halfway down the tube just behind each of the ears.
8) Turn tube around and cut off the extra piece at the top behind the ears.
9) Round off the corners at one end of this piece. This will be the tail.
10) Cut a small slot at the back of tube at the bottom. Slide tail into slot.
11) Slide the arms into each if the slots behind the ears.
12) Decorate! Use markers and crayons to draw the face of your tiger and color it's body. Don't be afraid to make up your own tiger with different colors or glued-on paper pieces.
Need more visuals? You can find the illustrated step-by-step instructions for the "Tube Tiger" at Scrapkins.com.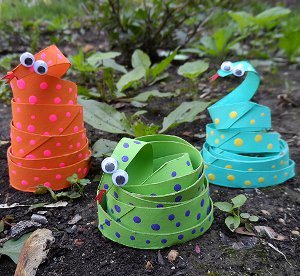 BONUS: If you like this toilet tube tiger, you'll love….
1. Egg Carton Frogs
2. Toilet Paper Roll Snakes
3. Paper Plate Penguins
4. Toilet Tube Owls
5. Paper Plate Hippos
Thanks for letting us share this project. We hope you enjoyed it. If you'd like to see more of our recycled art projects for kids or learn more about our "Build-It Book" visit our website. Don't forget to watch ScrapKins on Sesame Street next week; we'll be appearing on a segment called "Recycled Art School" on 12/17 and 12/19!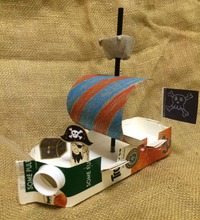 GIVEAWAY!
Want more thrifty fun from ScrapKins? Enter for your chance to win a ScrapKins Ship Builder DIY Craft Kit! The ScrapKins Ship Builder DIY Craft Kit is the perfect boredom buster on rainy afternoons. Teaching your children resourcefulness while inspiring their creative side is one of the best things you can do for them, and this kit allows you to utilize materials you already have and transform trash into treasured creative time together. Contest runs until 12/29 , so don't wait. Enter today!

Latest posts by AllFreeKidsCrafts
(see all)