Print This Post
When you think of stamping, you probably think of traditional wood mounted rubber stamps, acrylic stamps, and cling mount stamps. However, did you know there are many different and easy ways to make your own stamps, most of them with items you probably already have in your craft room (or kitchen)?
As kids, we all probably had our first experience creating stamps when we carved a potato or cut a lemon in half to see what kind of shapes we could create when we added a little paint to the surface. Making your own stamps lets you customize your projects and add a personal, one-of-a-kind touch.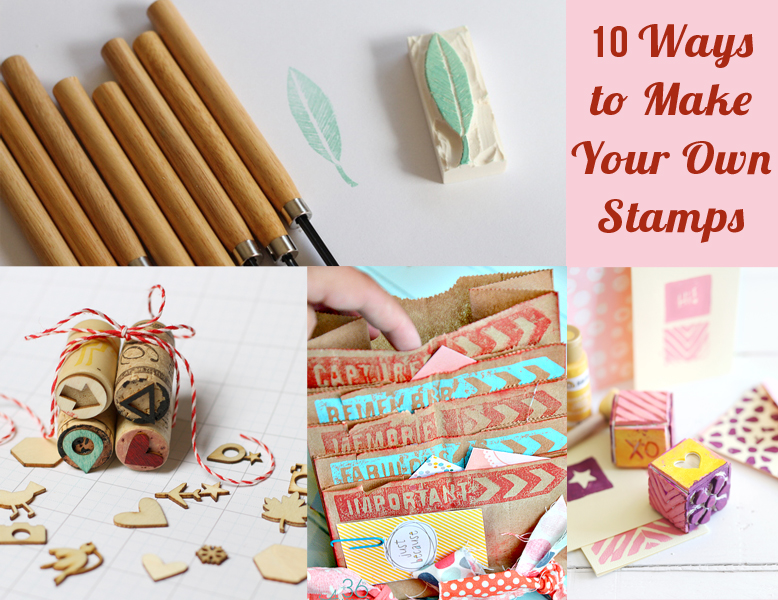 10 Ways To Make Your Own Stamps
---
Stamps can be created for your card making projects, scrapbook layouts and other paper crafting projects.  From simple stamps made from erasers to more elaborate but still easy to make roller stamps, we have rounded up 10 of our favorite stamp making tutorials.
Use a Spool to Make a Button Stamp
Stamping Project Ideas
---
Now that we have inspired you to create your own stamps, here are some ideas for projects you can create with them.  Use a hand carved stamp to make a note for the Tooth Fairy or try your hand at creating your very own personalized wrapping paper with stamps made from a potato (these aren't your kids' potato stamps!).  You will want to stamp everything once you browse these projects!
Stamped Butterfly Scrapbook Paper
Handmade Stamps For Personalized Stationery
Stamped Handmade Leather Journals
---
This stunning craft collection is not to be missed! Use vintage elements in your modern paper crafts with this giveaway. Enter here to win! Contest ends 8/3/14.
Have you ever made a handmade stamp?
---
Follow AllFreePaperCrafts's board Stamping on Pinterest.


I live with my husband, 7 and 4 year old daughters, and a pug named Pixie in Crystal Lake, Illinois which is in the 'burbs NW of Chicago.
I started scrapping in 2006 and was quickly addicted!I was an avid scrapper until late summer of 2010 when we started our adoption journey, at that point I was overwhelmed with paperwork (and emotions!) and I had to put something on the back burner in my life but I knew I would eventually come back to it.
We welcomed our daughter home from China in December of 2011 and a few months later I found my groove again and pulled out all of those supplies that had been tucked away.
I started out scrapping again doing traditional layouts, but at the beginning of this year I jumped into Project Life and I love it!
When I'm not scrapping I am usually spending time with our daughters which means library time, going on walks, thrifting (they love it as much as I do!) or watching Kung Fu Panda for the millionth time.I also have an Etsy shop Panda Eight Designs where I sell scrapbooking flair that I design.
Print This Post