Have you always loved wrap bracelets, or are you just starting to jump into this booming trend. No matter which category you fall into, you will definitely fall in love with these different wrap bracelet patterns. These DIY wrap bracelets stun with their fun colors and designs. Plus, with all of the different styles and patterns there is a DIY bracelet for everyone in this list.
DIY wrap bracelets also make excellent handmade gifts. Whether a birthday, anniversary, or any special occasion is coming up, a wrap bracelet can be a great finishing touch. Plus, stacking bracelets are becoming increasingly popular. So, making a homemade wrap bracelet can make this look easily attainable. Pick from a stitched, strung, wire, or beaded bracelet pattern and get started!
Wrap it Up: 13 Wonderful DIY Wrap Bracelets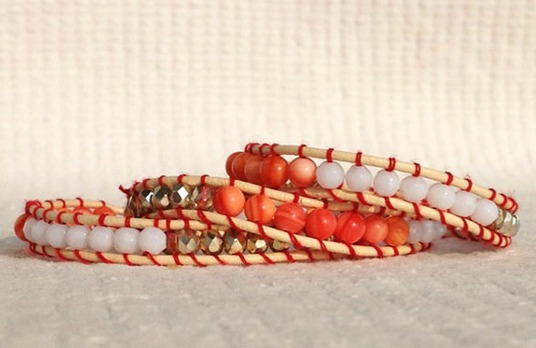 Beaded Wrap Bracelets
Starting with one of the most popular and well known DIY wrap bracelet patterns: beaded wrap bracelets. Beaded wrap bracelets are very popular and very, very common among this specific DIY jewelry project pattern. For a knockoff jewelry look try this Chan Luu inspired Wrap Bracelet. Making this DIY bracelet instead of buying the Chan Luu version can save you a good $200, which is kind of awesome! However, if you're more of a two-hole bead person, then you need to try out this Two-Hole Bead Double Wrap Bracelet. If you are more of a colorful jewelry person though do not miss out on this stunning ombre wrap bracelet pattern. Trust me, this one is definitely worth recreating. If all else fails, you can always go with a simple crystal wrap bracelet that is sparkly and elegant all in one though!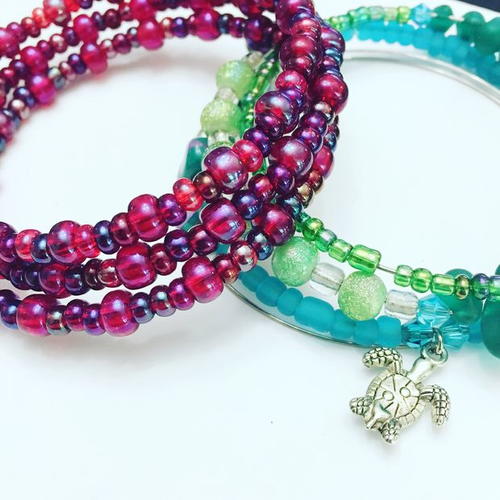 Memory Wire Wrap Bracelets
Memory wire is another increasingly popular material used in making different types of wrap bracelets. Memory wire makes all the work for creating a wrap bracelet much easier, because it does the natural wrapping shape for you! This Beaded Memory Wire Wrap Bracelet is basically a must since it combines the two most popular materials into one pattern. If a boho-chic, neutral-toned is more your style in terms of jewelry, I have the perfect bracelet pattern for you. This Earthy Memory Wire Cuff Bracelet is the everything you could be looking for and more! Another simple yet stunning wrap bracelet would have to be this Beaded Blue Wrap Bracelet pattern. This is also the perfect beginner project for someone who has never made a wrap bracelet before!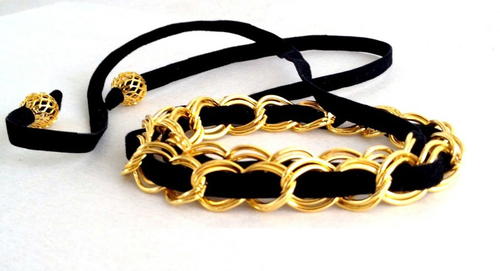 Different Types of Cords
You can also get more creative with your bracelet pattern by switching up the cord you use. If you want to be really chic and elegant try this suede cord black cord with gold chains. This Black and Gold Woven Wrap Bracelet will definitely give you that formal, high-class feeling. However, you can also save some money by making this 5 Dollar Satin Cord Wrap Bracelet. Recreate the iconic wrap bracelet look with this pattern at a fraction of the price! Pretty nice right? You can always pull out your girly chic side with this Ribbon and Chain Wrap Bracelet pattern. This will definitely give you that flirty girly feeling that every girls strives for.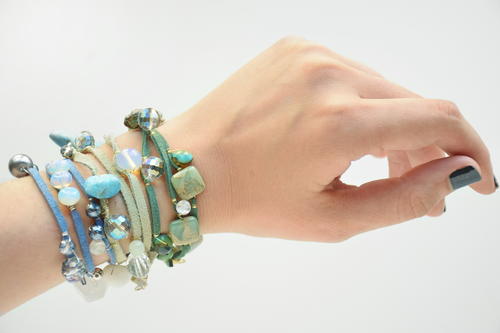 Unique Wrap Bracelet Patterns
Last but certainly not least, all of the unique wrap bracelet patterns that will blow your mind. These different wrap bracelets range from unique materials to unthought of patterns! For example, release your inner mermaid when you make this Magical Leather and Wire Wrap Bracelet. Seriously, between the stunning stones and seaside colors you will definitely be ready to grow some gills by the end of the day. If you are going for more of that fancy tribal kind of bohemian jewelry style though there is another unique wrap bracelet for you. This Tribal Veneer Wrap Bracelet uses a super unique material to give you an effortlessly easy wrap bracelet pattern. Finally, saving the most unique for last, you HAVE to try out this Snake Wrap Bracelet pattern. There really isn't much more to be said on that one.
For even more gorgeous wrap bracelet patterns be sure to check out this collection of How to Make a Wrap Bracelet: 37 Ways. It is filled with every wrap bracelet pattern you could ever dream of!
Latest posts by AllFreeJewelryMaking
(see all)